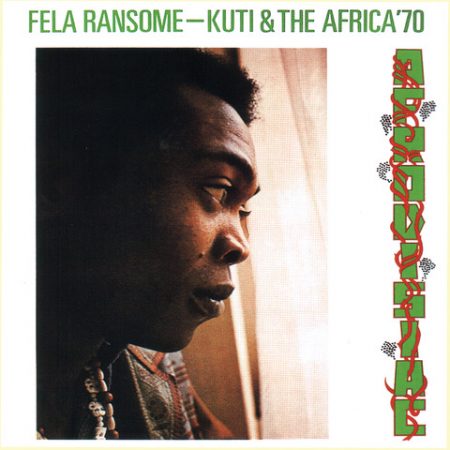 Whenever I reflect wistfully on attending well over 1,000 gigs, right near the top of the list for commandeering an imaginary time machine and nipping back to relive it would be Fela Kuti with a 35-piece band in Manchester in 1989. Having grown up listening to English chart music with its three-minute 7" pop singles and then embraced the even stricter discipline of the C86 generation and their 20-minute sets, it was a considerable culture shock to encounter the relaxed approach that saw his band still performing their third song as the set passed the two-hour mark. It was a first glimpse of the transformative power of a sustained groove with its shifts and developments of mood to get an entire roomful of people dancing. 
It is now much easier in the West to access his recorded music than it was at the time. 'Afrodisiac' is the fifth in a series of celebratory 50th anniversary reissues. The album was recorded at Abbey Road studios with Africa 70, re-recording tracks that had already been hits in Nigeria with a 'live in the studio' approach that it is immediately vindicated from the opening horn blasts of 'Alu Jon Jonki Jon' followed by wonky keyboards, deep funk grooves, incorrigible percussion and Fela's chanting joining the fray. The song is based on Yoruba mythology on the interaction between humans and animals and is about a dog who betrays his friends.
'Jeun Ko Ku (Chop and Quench)' is a satire about gluttony and was Fela's first hit throughout West Africa with its shuffle beat and more traditional jazz sound to its horns. The title translates to 'eat and die' in standard English. 'Eko Ile' swings with a vengeance and has Fela singing that there is no place like home with Eko being the pre-colonial name for Lagos.
The fourth and final track, 'Je'nwi Temi (Don't Gag Me)' has liberating horn blasts and a thorough funk work-out. Its theme is the defence of free speech and a critique of the military/political establishment of Nigeria which all seems horribly prophetic considering his later beatings by the military and subsequent imprisonment, albeit for currency offences, which was denounced by Amnesty International as being politically motivated.
Of course, while the political content is crucial, its impact would have been minimal without music that was so continually thrilling. With its pioneering Afrobeat sound, 'Afrodisiac' has aged magnificently and sounds remarkably contemporary, reflecting how Fela who composed and orchestrated all the parts, based on repetition and allowing only the drummer, Tony Allen, the flexibility to improvise, exerts a far greater influence on western music fifty years on than at the time of its recording.
Fela Kuti: Afrodisiac – Out 2nd December 2022 (Partisan Records)