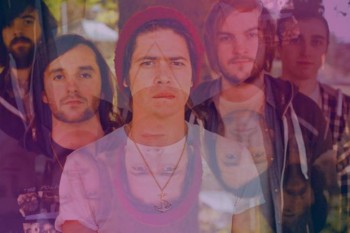 – THE RUBY LOUNGE, MANCHESTER –
Yorkshire based 5 piece Hey Sholay have had a pretty good year, gaining air play on Radio 1 and winning NME's competition to play Exit Festival in Serbia.
I head along to the Ruby Lounge hopeful of a night of fun energetic performances headlined by the band I've heard only good things about.
Opening up the night early on are Manc rockers Hans Island. With their new EP 'The Art of Fighting Without Fighting', the local band are a good start to the night. Hans Island get peoples feet moving with their fast melodies and strong drum beats, despite the slightly scream-o performance from the lead singer. Their EP leads you to (rightly) hear that the lads have a strong foothold in the punk rock genre with an indie twist, so if that's your bag check them out.
Next up are The Tapestry. Having released their debut single to great reviews and supposedly selling out The Night and Day Café earlier this year, again I am sure of entertaining things. And I certainly am not disappointed. With a glam rock feel, a lead singer with stage presence to rival any main streamer front man and a female counterpart that almost outshone him, I for one would like to see them again.
Now, next, we have The Suns. After speaking to some in the venue I discover that there had been a possibility that The Suns were going to be last up, and effectively headliners, but due to them having to leave straight after the gig (or so I heard) they were going on before Hey Sholay.
And unfortunately for Hey Sholay they have to follow a fantastic set that sees pretty much everyone move forward, have a good ol' dance and lose themselves in the quirky rhythms of The Suns. I wouldn't normally say that 50's style, hillbilly rock was my sort of listening but I just can't help enjoying the fast paced guitar riffs that The Suns present to the eager crowd. Everyone drinks in the Johnny Cash style voice of lead singer Jono and many are definitely envious of his maraca and harmonica skills. They rush from one song to the next, barely pausing for breath in a tight knitted, drum beat driven performance. Who could possibly follow that?
Well, Hey Sholay have that pretty big task. And, unfortunately for them, most people seem to have been at the event to see The Suns so leave after their set, leaving those left few on the ground. I choose to call us a select and intimate audience.
Obviously this isn't the easiest or most comfortable of situations for a band, especially a band who played an international festival this year. This much was obvious in the slightly lacking performance, but perhaps forgivable due to the select and intimate audience. We are, however, treated to 7 songs with some short interludes and interjections from lead singer Liam.
The band start with perhaps their most heavily advertised song 'Wishbone', a song with a pop-y flavour with some voice distortion thrown in. It occurrs to me that the song would be a fitting TV programme or film soundtrack song, with lots of emotion, build ups and clapping. A fast paced good start.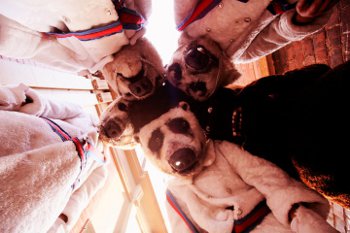 'Devil at the back door' follows and adds to the catchy melodies. Liam shows himself to be a charismatic eccentric front man very quickly here, complete with nodding head, arm gestures and a warbling voice repeating "on and on and on and on" for the few remaining to hear.
This continues through 'In Bed With Old Saint Nick', 'My Blood' and 'Burning', but the separation in the band can no longer be put down to warming up and getting into the performance. Lead, drummer and bassist converse through their instruments while rhythm guitar and rhythm/keyboardist are out on a limb, at the sides of the stage, doing their own thing (brilliantly, I might add). This seems to be a common factor in a musically talented performance, but they pull it back for the last couple of songs.
'Dreamboat' has fantastic energy. The acceleration into a breathless finish gives me the build up and ending I've been so craving through the whole set, and the band finally seem to pull together with, shock horror, a few smiles exchanged between the bored looking keyboardist and singer.
The band then end on a high with 'The Bears, The Clocks, The Bees', a repetitive march like fight to the end. I go home singing the chorus over and over again, and I'm pleased to say it feels like they pulled it back at the last minute to leave everyone moving on the spot and tapping their feet.
It's just a shame the whole set wasn't of the same calibre.
 It was a massive shame for Hey Sholay to have to follow such a well received band like The Suns, and for most of the crowd dispersing before their set had even started. Most of the 'little bit lacking' comments I've made can be put down to this difficulty. The disappointment of the band was shown in front man Liams comments to the crowd during interludes, thanking the small number and joking with those leaving just before the end of the set ("Where are you going?!?!" He joked).
I hope the next time that I see them they use the opportunity to give it their all, regardless of crowd size and who they are following. They proved themselves to be a tight, fun group with a likely leading man in their final couple of songs.