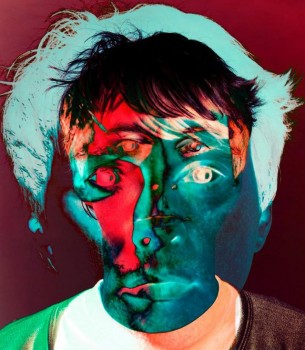 – METHODIST CENTRAL HALL, MANCHESTER –
Right, where do I begin? Just another Friday-night planned to be spent indoors out of solidarity with the 'big society' (…) when I get a call whether I fancy joining a friend to see Panda Bear at Central Methodist Hall. "Panda Bear, Panda Bear… name rings a bell but.. Oh hold on, Animal Collective member side project?" – "That's the one". And so my non-existing plans took a backseat and just shortly after 9pm I'm stood facing a 40ft screen in the Methodist Hall.
This last minute invite also means we missed support Stellar Om Source, but if the crowd appraisal is anything to go by, she seemed to have fit right in. Panda Bear take to the stage and set things off with an eerie, slam like march. Somehow sounds like it's the tune that lets them assess how much echo needs to be thrown into the mix according to the venue now it's populated.
The visuals behind the pair on stage are warming up with some water-esque, 'Interstellar Overdrive'-inspired drips. Can't help but wonder how many people knew about this beforehand and took the necessary (read: Class A) precautions.. It's not long before the chill-wave duo gets cracking and a slow, droning beat is put into play. The sheer force of this wall of sound sets your ears on fire and makes it impossible to turn away. Why would you anyway? Five songs in and one of the rawer songs on the latest album Drone makes its appearance. A simplistic yet powerful synthesizer sound wave crashes over us. And then the mind goes blank…
It's difficult to describe what happened in the next 90 minutes. More often than not, my mind was getting transported to different places. Visions of an Arizona desert demanding my astonishment at its beauty, a shaman calling the rain and the heavens obliging him, a call to arms for nature to show its true force – all of the above could have been happening anywhere in the world and these two were producing the perfect soundtrack.
Though there is quite a difference between their latest effort Tomboy and respected debut Person Pitch, the main one being that on the latter, Noah Lennox, was able to break away from AC's flirting with electronica and turn to exploring it in a way they hadn't for the first time, the songs mix well together.
Not only because of Lennox' consistent, pitch-perfect belting, but also because they all seem to serve one purpose and one purpose only: suffocating you with an audio/visual overload to the degree that we start to think that this is what drowning must feel like. The good kinds, if that were to exist.
Images of a weightlifting bodybuilder with a rabbit mask on or writhing souls of a sexual nature are imprinted in our brain, with the use of strobe lighting seemingly trying to make sure they stick.
Now, the thing is, I was aware of Panda Bear's existence and who and what it was, but that's as far as my knowledge of their music went. Animal Collective for example have long since been one of those bands that very rarely make it to the top of my playlist, but when they do they tend to stay there for a while. So it should be interesting to see whether Panda Bear will join them in that exclusive club.
But for now, my brain needs to recover and digest what happened on that faithful December night in the Central Methodist Hall in Manchester. As far as I'm concerned, it can take all the time it needs because the feel and looks that are left behind from this performance are what you would call 'intensely pleasant'.
"Thank you for listening to us play", Noah tells us at the end of their set.
The pleasure was all ours.