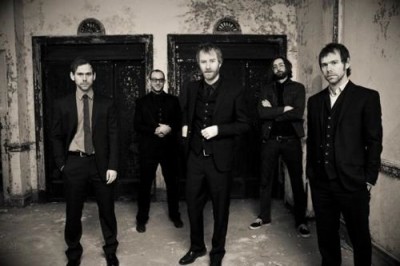 – ACADEMY 1, MANCHESTER –
First things first, I have to say that the Academy 1 is a pretty shitty venue to go to see a gig. It's like a gym hall crossed with an aircraft hanger, a soul-less dark and empty space. The acoustics are all over the shop and if you can find a sonic sweet spot then you are probably either on the stage or very close to the front.
Riding off the back of their universally acclaimed fifth LP 'High Violet,' The National in many have ways arrived.
Tickets for tonight's gig sold out in a matter of days and the Brooklyn based five piece could easily have filled an even bigger venue. After a slow and steady build in popularity they now find themselves shifting from cult status to the big leagues.
Having been a fan for a while, I'm intrigued to see how they are coping with their burgeoning popularity and commercial success. Coming onto a rapturous reception from the freezing cold Manchester faithful, they begin with 'Mistaken for Strangers' from Boxer.
Being one of their harder edged songs, it is perhaps the perfect choice to open the show, but something doesn't quite feel right. Sonically, the song just doesn't kick in the way it does on the record. The trademark bombastic drums of Bryan Devendorf, a signature of the National's sound, come across a little tepid. Maybe it's the curse of the venue or the sound man to blame here; it's certainly not the ability of the drummer.
'Anyone's Ghost' trickles past gently and although it's well received by the audience, I'm still not convinced. The thing I've always liked about the National is that they have big songs done in a clever and understated way, but 'Anyone's Ghost' just borders on being shy.
'Slow Show' gets the ball rolling a bit more, yet seems to be the cue for small gangs of big blokes to raise their arms aloft and sing their hearts out. Nothing wrong with that you might say, but when one of them has a Union Jack flag brandished on their collar you start to wonder where their newfound popularity is taking them. What next? The National being sung on the terraces? The mind boggles.
'Squalor Victoria' sees lead vocalist Matt Berninger start to move slowly out of his Cohen-esque comfort zone and let out some impassioned exaltations. Oddly, twin guitarists Aaron and Bryce Dessner seem keen to incite mass clap alongs with the audience, a strange juxtaposition given the bleak musings of Berningers lyrics.
'Bloodbuzz Ohio' and 'Lit Up' and 'Abel' are welcome shots in the arm and the previous wash of sound becomes more acutely focused. Berninger repeatedly screams 'My minds not right!' down the mic and you believe him every time.
But then we're back primarily into 'Boxer' and 'High Violet' territory for the rest of the gig and the thing that becomes startling apparent is the excellence of the production on each record. Both records favour the use of orchestral soundscapes rather than the more guitar led predecessor 'Alligator.'
Live; they have an additional keyboardist and brass section to fill in the gaps but half the time you are left wondering what they are actually doing. The fine balances of layers on their records often don't translate as well to being played live.
I'm sure the Academy is playing a bit part in this tonight, but it's not the first time I've seen them and felt like this. It also should be said that I definitely appear to be in the minority as every song; particularly off 'Boxer,' is met with a hero's welcome.
'Fake Empire' makes amends, and the mass sing along this time doesn't seem so out of place. Ditto for 'Mr November' and 'Terrible Love' which sees Berninger go on extended walkabout into the crowd.
We're hurtling towards the end of the show rapidly now and finally The National are really beginning to prove that they belong in the big leagues.
They then take the unusual step of performing final song 'Vanderlyle Cry-baby Geeks' without amplification, an impressive feat in a venue that holds over 2000 people. This results in a campfire moment that brings both band and audience together for the best sing-a-long of the night. It's a sombre yet somehow uplifting end to the night that makes the Academy 1 not seem so soulless after all.
The National are undeniably a fantastic band and their records are testimony to that, but at times tonight they still look unsure of themselves. It's like they are still somewhat bemused by the lofty position they find themselves in. But maybe it's this humility that will stand them in good stead for the future and allow them to keep making great understated rock records. I hope so.