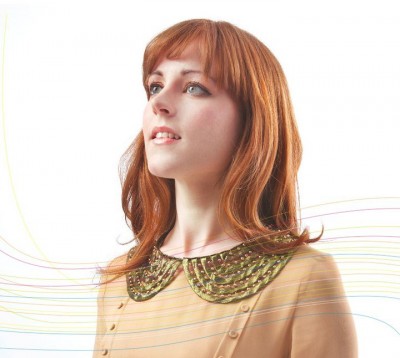 – THE MET, BURY –
"This one's about a murderous deer called Temperance." As introductions go, it takes some beating. Actually, as sentences go it takes some beating. And so, Hannah Peel launches into a slight red herring of a support slot. Here ahead of a full band show in Manchester, a solo Hannah chooses the medium of piano, reed organ and music box – oh yeah – to deliver her eclectic set-list (the one that she openly admits she's forgotten to bring from backstage).
At the nub of it all, there's a folk sensibility. That opener, 'The Almond Tree', immediately evokes the absolute nucleus of female English folk – June Tabor, Kate Rusby, etc, etc, etc. A couple of traditional Irish folk songs are seamlessly slotted in. But it's so much more than that. 'You Call This Your Home', in its stripped back version tonight, could easily be Bacharach and David at their peak. And then there's that music box. "I've been doing covers of 80's tunes with the music box. Remixes. I call it Rebox". And tonight's cover is New Order's 'Blue Monday'. It's mad, it's beautiful and it says that Hannah Peel's velvety voice is a space worth watching.
Is there a prize for Manchester's Best Kept Secret? As in Manchester's Best Best Kept Secret? Manchester loves them, always has. It can be the only reason why Denis Jones takes his stage to just 40-odd people of Bury tonight. The venue is spot on – the dark, atmospheric, intimate Studio, sister to the Main theatre. And, right or wrong, it does feel all the more special for that.
Like the spirits of John Martyn, The Beta Band and The Aphex Twin were chucked in a room and told to send a singer-songwriter out, the word 'inventive' barely begins to describe Denis Jones. I'm not gonna pretend I know how his multitude of pedals and effects work. What I know is this. Deft flicks at his guitar are looped into a backing track for 'Sometimes' from the 'Red+Yellow=' album. The sounds of a thumb on a loose jack plug, breaths into a microphone and a nursery rhyme weave into 'Clap Hands'; you don't know it yet, but it might just be the most glorious sound you have ever hear heard. Ever. 'Elvis' strips everything back and throws Jones' soulful bawl into sheer relief. There's even room for an improvisation piece, Jones intently drawing disparate strands of sound together into a hypnotic mantra.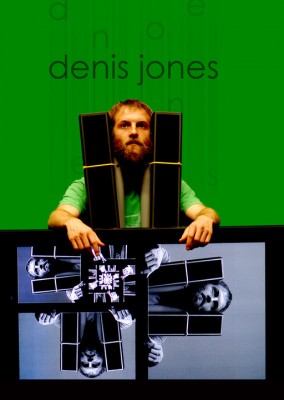 Six songs in, Jones introduces his finale, to rumblings of dissent on the front row. Jones looks momentarily taken aback – "They're ten minutes each, these things!" And to be fair, there are bands that don't put as much effort into a career as Denis Jones has just put into the last hour. In any case, 'Beginning' is worth the entrance money on its own, Jones once again thumping his guitar, picking out sweet arpeggios and coaxing all manner of off-kilter sounds to layer up another beautiful noise. Jones is persuaded to stay on for another improvisation that, in all honesty, is a little bit surplus to requirements.
Ever destined to be Manchester's best best kept secret? Yeah, probably. But in an ever more identikit culture, it's only right to celebrate the unique. And tonight, in this tiny corner of Bury town, Denis Jones – and Hannah Peel – prove that unique is alive and well.