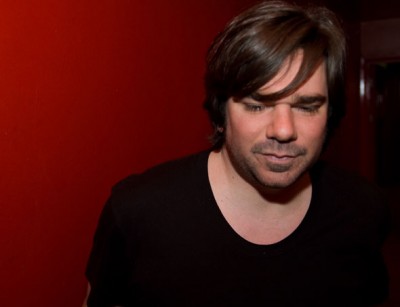 – SOUND CONTROL, MANCHESTER –
The general consensus among the folks standing in Sound Control tonight is that nobody really knows what to expect from the evening ahead. Due on stage is Matt Berry, known largely for his cult TV acting work, but also someone, it should be remembered, who has released two albums, composed scores for programmes such as Saxondale and even, in his own words, "pissed off the BBC" with his religious rock opera AD/BC.
So, clearly Berry knows his way around a fret board, but whether the emphasis will be on music or comedy tonight is unclear, especially as support comes in the form of two fairly textbook young indie bands. Clarification on this comes as the backing band takes to the stage wearing pixie hats, curly wigs and horse faces.
However, there is, and should not be, no description for the kind of performance put on by Berry. Musical comedy may come close, but, as his songs are largely catchy and in places intricately composed, this doesn't quite cut it.
Berry's fun-poking manifests itself best in 'The Pheasant', an eight-minute track designed to "blow your tits off". Starting out as a kind of Midlake-meets-The-Snowman genteel rural ballad, it weaves itself into an intentionally convoluted parody of almost every genre possible – primarily prog rock, psychedelia and electro.
Similarly, his deliciously over-the-top ode to the fairer sex, 'Woman', sees Berry utilise his trademark theatrical tones, parodying shocking rhyming skills and over-sentimentality. "She's dangerous, courageous, contagious, she's ageless…."
A bit of funk is injected into the set with the 'Innkeeper's Song' from AD/BC, as eighties driving ballads also get a good ribbing with 'One Track Lover', which is infused with a bit of Phil Collins' 'In the Air Tonight'.
Ironically enough, the closest thing to serious here may well be the theme tune to Berry's BBC comedy series 'Snuff Box', which is a true crowd-pleaser and boasts some epic and original lyrics. "We'll raise our swords high when my day comes, put my remains in my snuff box."
The between-song banter is just as anticipated as the music tonight and it certainly keeps hardcore followers happy. "What is it you say around these parts?" Berry asks. "Get to fuck?" Of course, the danger of a cult comedy actor taking to the stage as a musician is the risk of catchphrases being banded around the room. If this does indeed irritate Berry as he attempts to flex his musical muscle, he deals with it in a graceful and gentlemanly manner – by dropping a well-placed c-bomb. "Sing, you canary", someone ventures halfway through the set.
"You sing, you cunt".
It's true that his brand of humour may not be understood or appreciated by those who like their comedy simple and handed to them completely unravelled. But, it also questions the point in wasting time categorising everything we experience.
Matt Berry's gigs consist of comedy and music and you'll have a bloody good night if you go. As one famous chap (kind of) said 190-odd years ago, that is all ye know and all ye need to know.