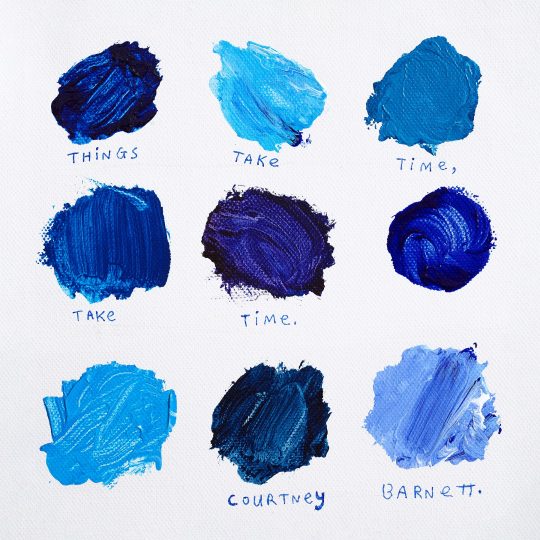 Following 'Tell Me How You Really Feel', an album that found itself on numerous best of 2018 lists, including most improbably Barack Obama's, was always going to be a difficult task. With 'Things Take Time, Take Time', Courtney Barnett has adopted a subtler musical palette and has set to sketching smaller details alongside honest emotions in her lyrics. Gone is the anthemic romp of 'Nameless, Faceless' with its state-of-the-world chorus that made me gasp the first time I heard it for hitting the nail on the head so precisely:
"I wanna walk through the park in the dark
Men are scared that women will laugh at them
I wanna walk through the park in the dark
Women are scared that men will kill them"

In addition to being a very nifty guitarist, Barnett is one of the finest contemporary lyricists and the titles on 'Things Take Time, Take Time' indicate a shift in perspective. Instead of the brilliant snapshots of the self-effacing diarist such as 'Crippling Self-Doubt and a General Lack of Confidence' and 'Depreston' from earlier releases come titles which could be taken from a self-help manual, namely 'Take It Day By Day' and 'Write A List of Things To Look Forward To'. The latter, with its reference to "looking forward to the next letter that I'm gonna get from you" echoes that focus on the smaller things that ought to be celebrated. While not specifically a lockdown record, the album does focus on accepting yourself and your surroundings.
Producer, Warpaint drummer, Stella Mozgawa, has helped create a lighter, airier sound. Album opener, 'Rae Street', has the most immediate melody and a lazy feel as Barnett observes the streets outside from her window. 'Sunfair Sundown' has the first indication of the more personal bent with the closing refrain, "And I don't want you to be alone."
The melodies are gentler and suit Barnett's vocals with their pleasing antipodean accent and phrasing that has a laidback drawl to it. There are some unexpected musical turns, especially the beats that introduce 'Turning Green' which led me to expect a Sleaford Mods tune. 'Here's the Thing' fleetingly brings to mind Cyndi Lauper's 'Time After Time', and has observations which reflects the album's mood of attention to the minutiae that makes each day worthwhile, an embrace of a slower pace of life:
"The windowsill
Is momentarily filled with sun
And it's these small thrills
That get me through the day"
'Before You Gotta Go' illustrates the generous mood of the album with the lines:
"If something were to happen my dear
I wouldn't want the last words you hear
To be unkind"
'If I Don't Hear From You Tonight' is probably her most openly affectionate love song, at ease with itself, not hiding behind any pithy humour.
The closing two tracks have a stately pace, almost a lethargy brought on by a heat haze. 'Splendour' is the saddest and most vulnerable song on the album and 'Oh The Night' has a verse which reflects the feel of this album:
"And the days seem so familiar
Like a film you never seen
Yet you still get that strange nostalgia
In the sentimental"
It summarises the feeling produced by this album which initially feels slight but grows with time and has echoes that do feel familiar yet can't be placed. If "Tell Me How You Really Feel" was her blockbuster, "Things Take Time, Take Time" feels like a very satisfying novella.