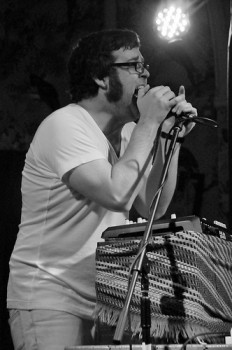 – THE DEAF INSTITUTE, MANCHESTER –
Finally, I claim a spot on the sofa in the Deaf Institute's balcony alongside the stage.
Vegans support; the singer and guitarist jump energetically about the stage, losing his hat while shouting garage rock in our faces. The drummer is out of my view but makes an impression. They're The White Stripes and The Libertines and Yeah Yeah Yeahs, but with little patience for sticking to the same beat or riff. A cover of 'House of the Rising Sun' grabs my attention (initially for the wrong reasons) and the finale tune seals the deal on an impressive set.
Although rather good, Vegans are a confusing support for Baths. Will Wiesenfeld's debut album 'Cerulean' is 100% electro, blending break beats with keys and live recorded sounds; like collaboration between Moby, Outkast and Mount Kimbie. I'm surprised when he walks on stage, resembling a slightly slimmer Nick Frost and wearing thick-rimmed black glasses. "Does anyone ever call this place Man-Chest-Hair?" he says. He fires up 'Hail', after announcing; "I'm from LA and I'm REALLY gay".
Will stands behind a box that's draped in colourful material, which supports a portable Akai sampler. A laptop and a microphone are the only other necessary devices. He triggers sounds, sings into the mic, samples, loops, distorts… all while dancing. And he still finds time to provide actions to go with the animal noises.
A hypnotised crowd watch silently and when the music stops, the loud cheers appear too much for Will to take in, forcing him to literally step back in amazement. There are shouts of "louder!" and he duly conjures up a bass heavy dubstep headnodder.
'Plea' is a lighter and slower tune, and then the glasses are off. He's enjoying himself as much as his audience are. I make my way down to the side of the stage so I'm not so detached. 'Apologetic Shoulder Blades' was apparently written for Hugh Jackman, the layered vocals soar over the bloops and bleeps… he skips around the stage mimicking a cat clawing at something.
Watching Baths live adds another dimension to the album, having listened and completely misjudged his personality. The feeling right now is of pleasant surprise and total awe. The atmosphere carries more of a dance vibe than expected.
He's bullied in to another tune after making sure the venue will allow it, but this still leaves the crowd wanting more… a second album is already eagerly anticipated, just so the next show can go on for longer.