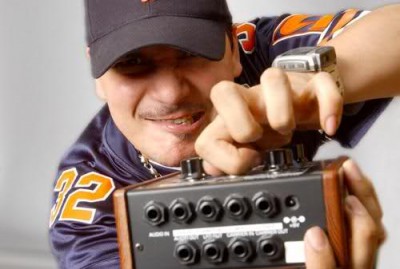 – MOHO LIVE, MANCHESTER –
The legend, the Master, the Mixmaster. A career spanning 2 decades, winner of the DMC championships for 3 consecutive years, collaborator with an array of different artists (including Ozzy 'Help me find my penis' Osbourne?), and who can forget that he represents The Beastie Boys? Gone are his days of hauling records, but he still has the energy, and fingers that move like lightening.
The Drunken Munks prove a choice support for the legendary Mixmaster – an up-and-coming 3 piece Hip-hop group who collaborate with Julie Gordon from the Happy Mondays on a few tracks. They have already been featured on BBC introducing, and have a vibrant and high quality party sound. The front man, Jason, has a versatile lyrical dexterity ranging from a flowing narrative to rhymes and wit, whilst their DJ, Frankie Fearless, and producer/percussionist Paul ' Jiddy', provide sound backing. They have talent that should be seen in not such a small amount of time, and like most Manchester groups they are easy going and were happy to chat. This is definitely a group worth checking out.
And then in they come, I think from the floor, packing out the venue in a matter of minutes. Then Mix Master Mike appears. His fast-paced set is serious marred by the Moho Live sound system cutting out at least twice, and, since his music is the unstoppable kind (short samples that lead you along till the only thing that makes sense is the tunes that fill the room), the spell is repeatedly broken before the apparition is fully formed. It builds up again, the speakers cut out again, and again the vibe dies. Musically, his newer stuff includes dubstep beats, but he still maintains his style and mix, pulling off a good set in trying circumstances.