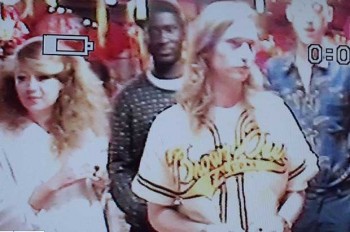 Sunless '97, currently residing in London, operate in a domain of their own design. Consisting of members Edward, Alice and Matthew, their "not-quite-electronica-not-quite-guitar-music-not-quite-pop" reflects the all-embracing diversity of Sunless '97's influences. From ESG to Bonnie Dobson, Robert Wyatt to Suicide, Broadcast to The Bhundu Boys, their well-received mix tapes are testament to their musical appetite. Their own music sways between past and present with a modern, genre defying, progressiveness.
Having teamed up with producer extraordinaire Kwes (Warp Records) to record their debut 'Making Waves', Sunless '97 have created an EP that sails around a lush cinematic landscape of rapturous synths and galloping tribal drums; thoughtfully interwoven male/female harmonies are underpinned by thermal, effervescent grooves. Their songs are expressionistic, evoking particular moods and atmospheres. They have an underlying melancholy, set against currents of a pure hope and optimism.
Sunless '97 are involved in every aspect of their output and immerse themselves, and whoever joins them, in a 360 degree creative project, centered around the music they make and collaborations they take part in.
Live dates will be announced soon.