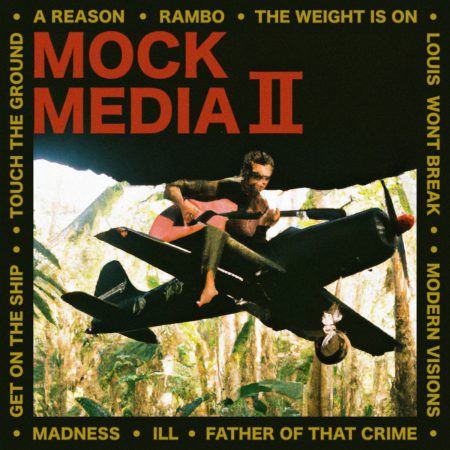 Lots of new releases in Silent Radio's latest roundup of the last really busy week before Christmas.
Mock Media      Mock Media II  
Debut album from Canadian supergroup comprised of Garnet Aronyk (of Crack Cloud), Bennett Smith (of N0V3L), Austin Boylan (of Pottery) and Evan Aesen (of Painted Fruits) whose punk-rock stylings serve as a framework for explorations into pop, electronic and world folk music.
Spearmint           This Candle is for You    
A dizzying multiverse of vintage indie-pop sounds and thoughtful themes. Across its 12 tracks, there's familial reflections on the search for a missing sister and those ways we remember lost loved ones; stories of colourful characters like John Gavin (the James Bond star who never got to make a film) and Prince's encounters with Joni Mitchell.
Smoke Fairies    Carried In Sound             
Alt-folk duo with a gorgeous album recorded in a terrace house with the volume dialled down to protect the neighbours, the results have a curiously intimate, hushed appeal.
Divorce                 Heady Metal EP               
The character studies of their debut EP are replaced by more vulnerable narratives about grappling with identity amid the new pressures they were experiencing following their phenomenal rise.
Montanera         A Flor de Piel    
Columbian composer and singer-songwriter who examines the immigrant's experience through a rich sonic lens inspired by sources as disparate as traditional Colombian and Senegalese music, contemporary ambient and experimental production, and whale song from the depths of the Atlantic.
Tirzah                    trip9love…??? 
The tracks were built using piano loops on top of one beat, distortion added, then romantic vocal toplines. Poems centre on themes of love, both real and imagined. The world the record finds space in is a lazy club fantasy zone.
Richard Walters                Murmurate
A post lockdown record that takes inspiration during the recording process from the winsome and spacious dream-pop of Beach House, the aching elegance of Phosphorescent, and the accomplished storytelling of John Martyn.
Water From Your Eyes   Crushed By Everyone
A song-by-song rework of their album 'Everyone's Crushed' featuring contributions from Mandy, Indiana, Nourished By Time, Sword II, The Dare, Kassie Krut, Jute Gyte, fantasy of a broken heart, The Cradle and the band's own Nate Amos.
Midas The Jagaban         Midas Touch EP Vol 2 – Return of the Mask         
British Nigerian Afro-pop artist fuses the hypnotic energy of Afrobeats with an infectious summer laced dance production to create an exuberantly confident and uniquely thrilling sound.
Deafhaven          Sunbather          
Tenth anniversary reissue of album that juxtaposed propulsive and harsh blast beats and riffs against soaring melody.
The Wanton Bishops      Under the Sun  
An exploration of identity and ultimately a love letter to Beirut, capturing Nader's kaleidoscopic life journey through a melting pot of musical influences; oriental, electronic, blues, rock n' roll, psychedelic, surf, synth pop and dance.
Jaakko Eino Kalev            Chaos Magic     
Finnish artist with a double-album of elemental pop and baroque electronics, laced with melody and mystery, drawing on cosmic jazz, dub reggae, neon synthpop, tender ballads and space-rock nirvana.
Autogramm        The Music That People Can Play               
Sub Pop alumni doing synth-driven, power pop that draws influences from the likes of The Cars, The Go-Go's, Gary Numan, 20/20, and Devo.
Erik Paparozzi and Gregg Turkington       Neil Hamburger Presents Seasonal Depression Suite     
A musical filtered through the lens of various guests stuck in a perfectly average chain-hotel during the holiday season, wallowing in self-pity and paranoia, re-living personal catastrophes both real and imagined, or simply trying to use the hotel vending machine. Guest vocal contributors include Neil Finn, Annabelle Lwin and Bonnie Prince Billy.
Emeli Sande       How Were We To Know
Her fifth album explores intimate encounters with love in all its forms, along with the risks required to pursue it.
Auragraph           New Standard  
Progressive vaporwave producer, Carlos Ramirez, shifting focus to the dance floor across eight chrome clockworks of cosmic acid house and liquid rave glide.
Scritti Politti       Early     
Reissued compilation of their earlier recordings moving from the agit-prop' Skank Bloc Bologna' through to the sophisticated intellectual pop of 'The Sweetest Girl' and 'Lions After Slumber'
Scritti Politti       White Bread, Black Beer              
Reissue of their 2006 Mercury Music Prize nominated album.
n0trixx                 Rejected EP       
Self-exiled Russian bedlamcore artist.
Abstract Concrete            Abstract Concrete           
New band from This Heat founder, Charles Haywood, produce a hook laden avant pop albums of the year standing on a continuum with such melodic art school innovators as The Kinks, Brian Eno, Robert Wyatt and Penguin Cafe Orchestra.
Micko & The Mellotronics           Le Vice Anglais 
Art-punk singer-songwriter style band that includes great comic actor Kevin Eldon, Horace Panter of the Specials on bass and Terry Edwards on brass amongst its ranks.
Beatowls             Marma
Debut album from Liverpool trio that combines elements of electro, folk, and psychedelia to create captivating and dark atmospheric grooves.
Tulipomania      Dreaming of Sleep         
Duo that has variously been categorized as cult synth punks, glam-leaning, post-punk, art-rock and muscular chamber pop delve into purely electronic means of production on their fifth album.
Abigail Lapell     Lullabies             
A haunting collection of traditional songs from around the world, arranged and performed on classical guitar and vocals.
Anenon                 Moon Melt Milk Light   
An album that sees Anenon depart from the electronics of previous works and embark on a reductive, almost entirely acoustic approach consisting of piano, tenor saxophone, bass clarinet, and field recordings.
Winger                 Chapter One: The Atlantic Years 1988:1993        
One of the most aired hard rock bands at the time, this release compiles their three albums from the period.
Lxandra                 Might Not Wanna Wake Up EP   
Over six songs the alt-pop artist glides between darkness and light, the musician opens up about their experiences with pain and hardship–
Iron and Wine                   Who Can See Forever   
Soundtrack to an accompanying live film featuring 19 tracks from their 20-year career.
Myria Gendron                 Not So Deep As A Well 
Expanded reissue of the debut album from 2014 of a stark, folk singer.
Supersempfft    Metaluna           
Reissued 1981 album from German group that fused global influences, experimental sonic landscapes, and surreal lyrics into a unique sonic cosmos.
Oldfield Youth Club         The Hanworth Are Coming         
Bitter Springs singer-songwriter, Simon Rivers, with songs of fragile beauty and introspection, though rarely without a degree of self-effacing humour and a rather stylish wit.
Spiritual Poison                 Incorporeal       
Cinematic drone punctuated by dynamics of jarring heaviness, numbing feedback, and unexpected melodic reprieve.
deary    deary EP             
Six track EP from dream pop band wearing influences of MBV, Cocteau Twins and Mazzy Star with a side-serving of trip-hop and St Etienne.
Kurupi                  Mano   
EP from an artist known for diverse and eclectic live shows that find the middle-point between rap, hip-hop, and punk; taking inspiration from the likes of Paris Texas, JPEGMAFIA, Death Grips and System of a Down.
Julie Byrne          Laugh Cry Laugh EP        
A collaborative EP featuring a cover and three new songs.
Mutes                   Mere Slaughter
Birmingham post-punk noise rockers create a cacophony of dissonant no-wave guitar and anguished vocals.
Earthside             Let The Truth Speak       
Cinematic progressive rock band with a string section and collaborators including Daniel Tompkins [Tesseract], AJ Channer [Fire From The Gods] and Baard Kolstad [Leprous] added to their arsenal.
Mike Sheridan                  Atmospherics   
An album where computer collages, classical instruments, crystal clear melodies and heavy rhythms collide.
Plaguemace       Reptilian Warlords         
Debut album from Danish death metal band full of ferocious energy and dirty riffs.
SSD        The Kids Will Have Their Say      
Considered to be the first straight edge band, their 1982 debut album will be available on vinyl for the first time in 40 years.
Sabatta                 How To Get Even            
A mix of Hendrix, QOTSA and early Red Hot Chili Peppers strained through the sieve of South London.
Richard Hronsky               Closures              
Eighteen tracks of elastic, lo-fi, sample-heavy material in which he creates a dreamlike landscape of moments, sounds, impressions and hopes.
The Refreshments           A Stiff One         
Mixing equal parts of the American South's rock n roll & country from the 50s with the 70s British version of these two components to create a sound of their own.
Little Man Tate                  Welcome to the Rest of Your Life             
Returning after 15 years, the indie rock band's return is filled with the arch storytelling, colourful characters, and tongue-in-cheek witticisms.
Merry Lamb Lamb           Exodus EP           
It marks a bolder, more club-oriented sound, blending retro strobing shades and analogue sounds from vintage synthesisers with Merry's silky vocals.
Siblings                 In Heaven EP     
Debut EP from a band whose style of indie folk-rock music channels echoes of ethereal psychedelia, classic '70s songwriting, and transcendental spirit jazz.