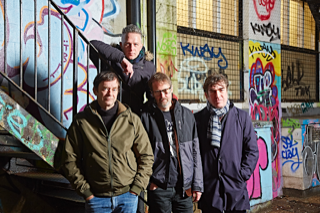 Over the course of 24 years, Spearmint have specialised in wonderfully crafted, melancholic songs with outstanding lyrics that tell emotional stories that deserve far more than their dedicated cult audience. Fronted by Shirley Lee, who can lay claim to a prominent place amongst the most famous male Shirleys in popular culture, coming a very distant second to Shirley Crabtree AKA Big Daddy, a fixture on World of Sport's Saturday afternoon wrestling coverage in the 1970s. Lee's songs tend to sound incredibly personal and autobiographical, possibly because of often being written in the first-person and being sung in a vulnerable voice.
The twelve tracks that make up 'This Candle Is For You' maintain their exceptional standards and often consist of linked pairs. 'Tell Me About My Sister' is an epic beginning with three minutes of orchestral disco before the vocals arrive, ostensibly a tale of a missing sister but the mystery is on many levels – "I've always felt a presence, like a missing half of me / and though I never met you, I knew you". There is an accumulation of spoken-word detail: moving to Paris and changing her name to Genevieve, getting on the number 24 bus from Tottenham Court Road to Camden on 17 June 1999 but "well, it looks like you, but it could've been me". It ends with melancholy strings before leaping directly into the strummed guitar-led, 'Makes You Beautiful'. with the accusation "though you sing about your sister, it's plain you're an only child / that is why you need control and attention all the time". It feels as if he is still singing about himself in describing forming a band with the hope of transforming his life.
'Melody's Mother's Jam', a treat for apostrophe fans, is the album's one track on which keyboardist, Simon Calnan, takes lead vocals. Musically a gentle shuffle, it becomes a rueful reflection on mortality (there must be some kind of irony that a jam can't be preserved… there's no more melody's mother's jam / because there's no more melody's mother), throwing in references to the Hollies' 'King Midas in Reverse' and the 'Carry On Cleo' line, "infamy, oh infamy, they've all got it in for me"
It is followed by a brace of songs about very different aspects of fame. 'The Most Famous Secret Agent in the World' is told from the perspective of John Gavin, an understudy on James Bond films for 13 years who never reached celluloid while earning the best wages of his career for doing nothing. In contrast, 'Prince & Joni' imagines a meeting between the two musicians (the esteemed Purple one was a renowned Joni Mitchell fan). While the notion of them in a caravan together feels an unlikely detail, it is insightful on flattery, obsession and the creative process, especially the excitement of writing new songs. Musically, it is decorated with a lovely, considered piano melody.
The pure pop rush of 'Three More Songs on the Jukebox' ironically only lasts for just over a minute suggesting that perhaps the listener had picked a medley of early Napalm Death, Extreme Noise Terror and Electro Hippies.  After a blissful night out, the focus shifts to the gentle 'Never Far From Saturday Nights' which celebrates staying in at weekends with a loved one watching 'guilty pleasure' movies and feeling far from guilty. In contrast, 'Into The Darkness' has James Parsons' heavy bass, Ronan Larvor's repetitive pounding drums and grand keyboard squiggles. Its perspective is outward-looking with references to colonial guilt, empire and royalty.
'How I Became The Nutter On The Bus' is a ruminative reflection on youthful attitudes towards mental health and later becoming the sort of figure their younger self would have ridiculed. It merges into the spoken word intro of 'Older Cats' which transforms into a new wave synth sweep, the metaphorical slant on choosing an older cat rather than a kitten from the rescue becoming apparent ("speaking as an older cat myself / older cats haven't had their day, full of fun, they love to play: perfect companions /so much wisdom, so much love").
'Flowers on the Bandstand' is an understandably muted take on the reaction to Sarah Everard's murder and the continuing number of victims of male attacks on women. Gradually growing in tempo, the song throws in some gorgeous flute lines and orchestral flourishes. This is twinned with  song' Back in the Middle' and reflections on how life is celebrated and commemorated.
It completes an album that blends excellent short story telling with accessible pop tunes. Their tenth album shows Spearmint still at the peak of their powers.
Spearmint: This Candle Is For You – Out 17th November 2023 (WIAIWYA Records)