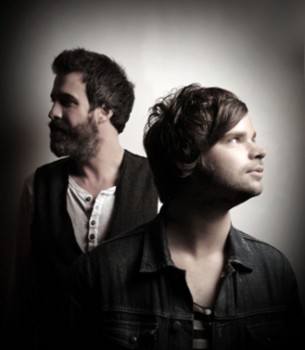 Ian West, the director behind Hyde & Beast's earlier videos for '(and the) Pictures in the Sky' and 'Never Come Back', has returned to complete his trilogy for the band. Speaking on his latest work he says "This last one is perhaps my favourite, although I love the other two, this seemed more of a challenge. It needed to be funny and sad and cool all at the same time, and I think it is.
"I mean, it's a lonely character, on a journey of self discovery, on a quest to find himself, with a purgatory metaphor, on the shore of a new beginning and ultimately taking the chance and swimming towards something better. Or maybe it's just a guy in a bear suit. Either way – who isn't going to love that?"
With the Lake District acting as the stunning backdrop to the new video, we see our lost hero trying to find his way home through breathtaking scenic views, up hills and down dales conjuring up a mixture of heartstring-tugging and uplifting feelings that, given the video's protagonist, result in an ultimately amusing video.
Following the release of their debut album 'Slow Down' in August, The Futureheads' Dave Hyde and ex-Golden Virgins' drummer Neil Bassett will be hitting the road with a variety of familiar faces from the North East music scene (that often includes fellow Futurehead and Dave's brother Barry Hyde) throughout November. Expect the unexpected as they extend the experimental feel of the album on to the stage.
November Tour Dates:
Mon 7th SHEFFIELD The Harley*
Tue 8th GLASGOW Captain's Rest*
Wed 9th EDINBURGH The Electric Circus*
Thu 10th NOTTINGHAM Bodega*
Fri 11th LIVERPOOL Contemporary Urban Centre*
Sun 13th YORK Fibbers*
Mon 14th BRISTOL Louisiana*
Wed 16th LONDON Water Rats*
Thu 17th MANCHESTER Deaf Institute
Fri 18th STOCKTON The Georgian Theatre*
*Calling all trumpeters! Hyde & Beast need you! The Sunderland duo are getting ready to hit the road and are looking for talented trumpet players from around the country to join them onstage. The selected musicians will accompany them during the performances of their recent single, 'Never Come Back' (on all listed dates, apart from Manchester).
Neil 'Beast' Bassett explained,"If you or someone you know can blow a mean horn then get in touch. We will get you and a mate into the show for free; we can have a little practice in soundcheck and then play the show. Should be a blast!"
To apply, simply send your name, contact details and the date you would like to play to [email protected] along with a confirmation that you have a trumpet you're able to use. The band will get back to those selected to play with more information.