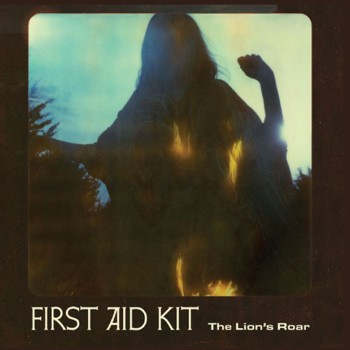 As a precursor to their second album, First Aid Kit will release the title track 'The Lion's Roar' as a single on limited 7" and digital formats on the 5th December.
As well as supporting Lykke Li in the UK (and the US), the Söderberg sisters will return for a special headline show of their own at Bush Hall on December 6 where they will showcase the new record in its entirety.
First Aid Kit's first American-recorded album, 'The Lion's Roar' is due out 23 January 2012 and juxtaposes sadness and beauty in the best traditions of folk and country music. They even cite the Louvin Brothers cheerfully brutal version of the old murder ballad 'Knoxville Girl' as the perfect example of the sweet and sour they adore. And this carefully constructed collection deftly succeeds in setting references to their home town of Stockholm and long dark Scandinavian winters against an unforced backdrop of country-rock swing.
'The Lion's Roar', recorded in Omaha by Mike Mogis (Bright Eyes, millions more), is a full band record. The girls' father Benkt takes the bass, Mattias Bergqvist drums, while Mogis and Nate Walcott of Bright Eyes and a cast of Omaha-based musicians round out the sound. From the dynamic title track onwards, it's more honky-tonk than campfire, and no less affecting for that.
Initially signed in 2008 by Rabid Records, the label run by The Knife (the girls later signed to Wichita), First Aid Kit have gone from faraway teenage fans covering Fleet Foxes for fun to recording a single of Buffy Sainte-Marie's 'Universal Soldier' with Jack White at his request and in his Nashville, TN Third Man studio. "I think of it now as like a dream, too good to be true," says Johanna of the session, happily and hurriedly squeezed into last autumn's tour schedule.
'The Lion's Roar' will be released on 23rd January 2012, through Wichita Records.
Live Date:
Tues 6th Dec: Bush Hall, London