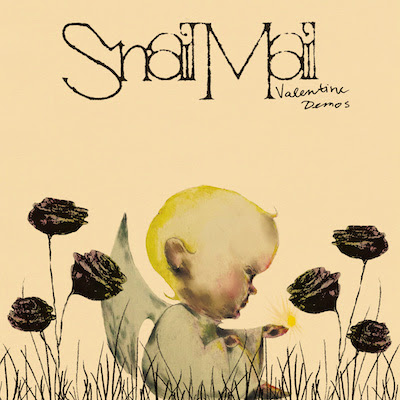 This could just be my best review ever. A part of me feels like I won't ever get enjoyment like this. It's interesting the hallucinogenic trance of 'Snail Mail's' 'Valentine Demos'. Lindsey Jordan's vocals are quite hard to follow at moments, it's without a doubt something that captures a listener with an eerie but spooky sound. I can't quite make sense of it sometimes. And you're going to love it.
I can see the dark theme reflecting the stripped-down narrative this EP has. It sounds like someone singing raw emotion that takes you to another place. You become trapped between your headphones.
The world's genuine breathtaking acoustic session industry of music has taken a halt in recent years, with flashy pop music and unstoppable juvenile hysteria for who's dating who? When in reality, none of those matters. The music does.
Snail Mail's EP is short yes, but it sets out a clear reminder that there is power in simple music with the right ideas and the right motive. Snail did the right thing at the right time.
Themes of romance is what standout in this compilation of demos. Track "c. et. al." creates some integrity to album title as it's honest to the meaning of romance mentioning past lovers in lyricism.
it seems to depict a guilt-ridden figurative "hangover." The excitement has subsided, leaving Valentine's remains, lust, and devotion strewn all over the floor. The electric guitars of youth and infatuation took a vacation as Jordan awoke with a less idealistic view of her unrelenting infatuations, allowing the poignantly picked pastoral acoustics to express the point of Sunday morning clarity. Good morning… no way.
Track 'headlock' is my highlight track to take from this demo expands the sound and feel of the demos. A shift cut right into the moment. 'Mailed' to your ears.
Cutting to the chase is as easy as Sunday morning Jordan says: "I prefer some of the demos to what actually came out on the record because of how intimate and solitary the process was."
But obsession is also draining – whether you're the giver or the receiver. Jordan gives her partner an option throughout the same song. Singing, "We can sail the ocean blue," she then becomes serious, saying, "Or just lie down." About half of the album's tracks feature her displaying a similar inclination for repose, most notably the gentle "c. et. al." The interesting thing about this, though, is that Jordan's weariness hasn't stopped her from growing or becoming quiet; rather than breaking down, she brushes it off and keeps going, pursuing large sensations and great sounds. Jordan seems happy even when she's tired.
Awesome.
Snail Mail: Valentine Demos – Out 3rd November 2023 (Matador Records)