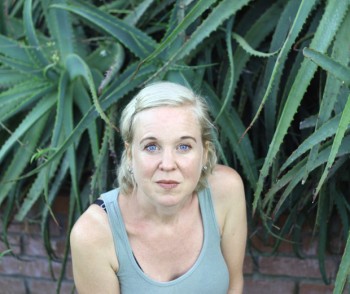 – CLUB ACADEMY, MANCHESTER –
Of the 4AD bands that lit up the late 8o's and 90's most people would cite the Pixies as the main draw. Myself, I loved the Throwing Muses. The dual vocals of Kristin Hersh and Tanya Donelly swirled around angular guitars with a melodic sensibility about their work. Donelly left the band in 1991 to play with the Breeders, Belly and then solo success. Hersh's creativity derives from her bi-polar disorder, which seems to create an aura around her stage presence. Starting hypnotically at a single point her voice has grown a little harsher but this only aids the songs that are performed this evening. Like the spate of 'reformed' acts at present the audience is a little older and a little greyer than before but this again is the sign of a band that holds its followers through song, lyric and performance.
The band kick off with Soul Soldier from their self titled 1986 album, the scene is most certainly set for a band that, in my humble opinion, create timeless songs. Now maybe that's because of Hersh's voice captivates the audience or maybe that's just because you feel every word she says is a chapter of a tormented past, either way the Throwing Muses are here tonight to ensure that the audience leave tonight with more than a nostalgic run through of the old days.
David Narcizo's drumming style is unconventional yet spellbinding and complements the shifting tempos and chord changes which Hersh thrashers out venting steam through songs like Hate my Way and Shimmer. Although there is a gap where Donelly's vocals were, songs like Bright Yellow Gun and Limbo are simply perfection. The songs from the 1995 album University provide the backbone for tonight, however Furious from my favourite album – Red Heaven, creates an atmosphere that sends fireworks flying around the room, just stunning! The songs Say Goodbye and Bea from the album Hunkpapa sound equally as fresh. The sound is steeped in a time where 120 Minutes reigned supreme on MTV and college kids wore t shirts emblazoned with their underground heroes but this sound doesn't sound dated. Yes there is a lack of the two 'big' hits (Dizzy and Not Too Soon) but they were Donelly's babies. Tonight is about Kristen.
At 40+ years of age Hersh provides a subtle beauty, which masks the journey of her troubles. A real singer songwriter whose performance provides rage, tranquility, vitriol and beauty in equal measures. By the time the encores of Mania followed by the comedown of White Bikini Sand ring out, the Muses have more friends trapped inside the venue, a real band, playing real songs to an audience of real fans. Stunning!!!!!!