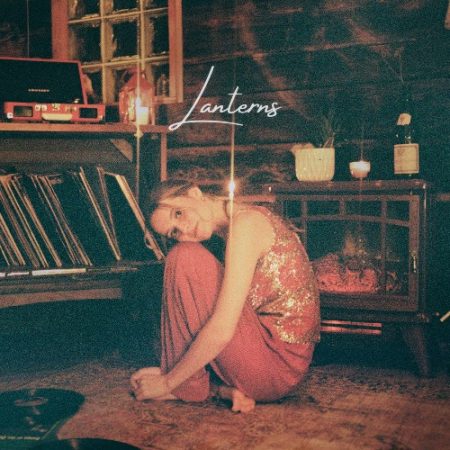 As we approach the last few months of 2023, some of us I'm sure can't possibly imagine being served with anymore content to digest, after all we've been fed over the last year. Well, I'm here to say you should probably save some room in your life for the most beautiful new album from Boston born singer/songwriter Rosie Darling. Lanterns provides us with angelic vocals and gut-wrenching lyrics, it's hard to ignore the journey she's taking us on. With tales of love, heartbreak and the motions of moving on you can't help but feel attached to at least one of if not more of the tracks.
With six of the 11 tracks being previously released across the course of the year, the excitement being built up by and for the fans is second to none. Including tracks entitled 'Boxes,' 'Lost on you' and 'Justify' we see just how talented Darling really is. Channeling the whirlwind of emotions, one experiences during the breakdown of a relationship and turning it into such poetic lyrics is something that deserves the utmost admiration. Using a piano across the majority of these tracks creates such an intense film-like atmosphere, you almost feel as though you're present in the moment. Molding the essence of drama and anger together allows you to feel exactly what you're supposed to and permits for such a strong bond between the artist, fan and song. Layering vocals and harmonising so beautifully amongst herself and her collaborations make for such easy and quite frankly calming listening.
A track which practically jumped out at me was 'Villain.' It appears as track six on the album and genuinely blew me away upon the first listen. It took a slightly different melodic approach in comparison to the other tracks we've heard already, and it did not go unnoticed. Using a feature of what sounds like a rainstorm/waterfall truly set the imagery of the song and the direction it was heading in after just a few seconds. Beginning with a quite intense piano melody, before advancing onto a bouncier beat courtesy of drums and tambourine I feel as though I simultaneously want to cry as well as dance throughout its duration. A real favourite of mine and I'm sure it will be many others. It perfectly balances the line between anger and acceptance, which I find to be a unique yet indescribable talent.
Moving onto track 8 'Burden' which becomes more of a guitar led song in comparison to ones we've already heard on the album. It appears to be more pent up with the vocal style and seemingly more intense, as if Darling wants to hammer the point of her love becoming an inconvenience to someone home. I find it quite refreshing to see this mix-up and thoroughly enjoy what it has to offer. It hits on the heartstrings with the question style of lyrics and repetitive melody, I'm rather fond of it. Heading straight into 'I'm Different Now' containing a rigid sounding melody built on a bed of guitars. With a fast-paced style of performing, it comes across as a spill out of everything she needs to say in such little time, resembling a panic shall we say, and it works incredibly well.
Into the 'Longest Goodbye' we go. Sitting as number 10 we prepare for the closing tracks of this rollercoaster we've been on to begin. It remains simple yet effective, providing us with something that feels like a story being told and yet it's so well described you can't decipher how this can be real. Introducing violin into the chorus, it sends an orchestral feel through your very own speakers and transports you to somewhere so much more magical. It's full of loss and longing and I cannot express quite how mesmerising the song itself actually is.
Two tracks on the album contain features which appear as track two and track 11 'Nail in the coffin (BoyInSpace)' and 'Overthrown (Winona Oak)'. 'Nail in the coffin' explores the feelings of needing the relationship to be over and done with despite desperate efforts to fix it. It almost seems like a conversation between the two and each verse is reflecting on the other. The two artists blend seamlessly together over an upbeat melody, using a mixture of instruments to mirror the feelings of all the ups and downs throughout the time spent together. It makes it feel so much like a film scene we find ourselves rewinding to watch over and over hoping for a brighter outcome. Moving on to 'Overthrown' which is the penultimate track of the album. Layering the artists' vocals and having them harmonise alongside each other are both aspects which built up to create an almost acapella style of song before the introduction of a low beat in the background to back the tranquility of the track. Showing off the vocal range of Darling in full force there was no better way to end the album. As if I wasn't in awe already this sure sealed the deal.
Rosie Darling: Lanterns – Out 10th November 2023 (Nettwerk)