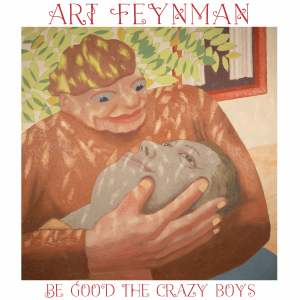 Art Feynman is the recording alias of conceptual artist and producer, Luke Temple. In his latest album, 'Be Good The Crazy Boys', both skillsets are utilised. The theoretical underpinning of art is apparent in narratives about fearing the end of the world, albeit through the guise of an unhinged narrator, while the production inspiration comes from albums recorded at the late Compass Point Studios in the Bahamas, most notably Grace Jones' 'Private Lives' and Talking Heads' 'Remain in Light'. However, being recorded in less luxurious surrounds, the nine songs are imbued with a greater sense of uncertainty, a level of punk funk nervousness.
Rushing out of the blocks, 'Early Signs of Rhythm' is a shiny funk beast decorated with female backing vocals, synth squiggles and a wild sax break while referencing Abraxas, a figure of both good and evil in Jungian mythology. 'In CD' has bass-led rhythms that recall ESG but disrupted by vocals that are half lounge half muttered. In its frenetic energy, it is that branch of white funk that mirrors nervous anxiety in its rhythms.
'Therapy at 3pm' sees him worrying that "mother nature is going to kill me" while repetition of the line about his appointment, "if I can remember", seems like a mantra of reminder and reluctance while the bubbling synths lines and wild sax squalls suggest that dance is the best therapy. With its shimmering synths and lithe percussion to the fore, 'All I Can Do' is a tale of the butterfly effect on our own lives, how what appears to be a mistake in the past can inform a success in the present.
The intriguingly structured 'He Dances Light' begins with a mutant rhythm, followed by the revelation that "he's living at a pitch only dogs can hear". The sax break matches the song's discordant air, although a shift is marked by a slower, more melodious Bowie-esque vocal section. It has the jeopardy of teetering on the edge of disintegrating before reassembling itself.
Despite exploring the notion of FOMO (Fearing of Missing Out) with Temple unconvincingly singing, "I'm okay to be passed over / let them have it / I don't care", 'Passed Over' is a highlife joy with the instrumentation conjuring tropical sunshine and cocktail umbrellas, the saxophone weaving a tremendous pattern around clean synths and a buoyant bassline. 'Chasing My Life' has an impressive percussive workout, wonky bursts of brass and heavy repetition of the title which suggests chasing your tail, struggling to keep up with life's demands.
'Desperately Free' manages the trick of simultaneously sounding fresh yet having always been part of life with its infectious chants and a groove that could have found a place on 'Songs in the Key of Life' while the song grapples with the obsession with spiritual growth and the misplaced desire to 'cure' death. The album closes in muted fashion with 'I Do' in which Temple seems extremely dubious about taking their hand while defining "a new poverty line, you just above it in a ray of sunshine", fading out amongst Latin lounge jazz piano.
'Be Good The Crazy Boys' marries sophistication with self-doubt. Never less than good, it makes the leap into joyful wonder on 'Passed Over' and Desperately Free'.
Art Feynman: Be Good The Crazy Boys – Out 10th November 2023 (Western Vinyl)
Feynman – "Desperately Free" (Official Visualizer) – YouTube