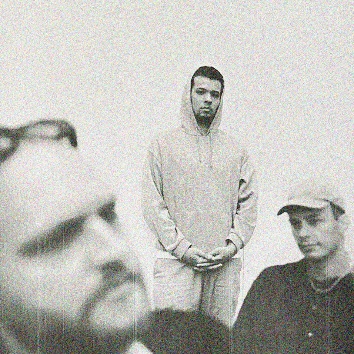 For those who think that 'War and Peace' is an annoyingly slim novella, we offer Silent Radio's latest roundup of new releases. It is chaos out there.
Moses Yoofee Trio           Ocean  
Very pleasing album from a trio consisting of pianist/keyboardist/producer Moses Yoofee, bassist Roman Klobe-Barangă and drummer Noah Fürbringer, fusing jazz, hip hop, RnB, and soul, finding a common ground in their respective musicianship and citing J Dilla and Madib as influences.
King Creosote   I DES     
The record's kaleidoscopic musical terrain plots vibraphones, accordions, e-bows, samplers, ungulates, pipes, scratched records and wine glass-drones across its landscape. But there's common ground in the wonder of the synthesiser – not to mention Anderson's singular voice.
Laura Veirs         Phone Orphans
Raw and deeply intimate songs compiled from over 900 voice memos spanning 8 years on her phone to curate this 14-track collection, which she recorded herself in her living room.
Isla Rico               Eternal Optimist EP        
Manchester trio infusing the neon-filtered Indie-Pop of The 1975 via the slick R'n'B stylistics of 00s era Justin Timberlake.
Bar Italia              The Twits           
Their second album of the year showcasing their economical yet evocative songcraft taking raucous, mystic, unkempt, occasionally sinister, and wholly committed turns.
Hilary Woods     Acts of Light      
A fugue comprised of nine slow hypnotic dirges on which Woods' experimentalism and sonic excavations lean into the intimacy and tenderness of this intuitive compositional work.
Jeffrey Martin   Thank God We Left The Garden
Folk artist making a paradoxical nod to his own spiritual conclusions, a theme that is subtly woven throughout the album. The son of a pastor, he touches on his religious upbringing then carries us well beyond his past where the weight of his deepest questions are free to unfold.
Black Grape       Orange Head     
Eleven genre-splicing tracks that pair Shaun Ryder's singular observations and wordplay skills, with buoyant beats and low-slung grooves primed for the dancefloor.
Magnetic Skies                 Empire Falling  
Group with a shared love of 80s synth-driven post-punk. They use pulsing vintage analogue synths and pumping bass to create a signature sound of evocative electronica mixed with darkwave, classic yet futuristic all at once.
Evil Blizzard        Rotting in the Belly of the Whale             
It retains the 'Sabbath-meets PiL-meets Killing Joke' sound found on the band's earlier albums, but now encompasses dub, goth and electronica in its 8 tracks, with clear nods in the general direction of Sonic Youth, Jane's Addiction, Leftfield and The Mission.
Tkai Maidza        Sweet Justice   
Rapper who has toured with Billie Eilish and Lizzo unleashes a breakup record: about splitting off from her self-doubt and warped sense of self; the toxic figures that populated the last chapter of her life; and the idea that she should stick to any one lane.
Lol Tolhurst & Budgie & Jacknife Lee       Los Angeles       
Cure and Banshees drummers join together with a host of guests ranging from The Edge, Bobby Gillespie and James Murphy through to harpist Mary Lattimore and avant-garde artist Lonnie Holley.
My Octopus Mind           Trying to be Normal       
Bristol band with a wild form of experimental rock using balkan rhythms mixed with heavy psychedelic post-punk, wonky riffs and moments of haunting grace.
Empty Country                  Empty Country II             
Joseph D'Agostino  of Cymbals Eat Guitars with a second album in which he pushed himself to new places as a songwriter, crafting a collection of short stories set to music which grapple with the biggest questions now hanging over America — gun violence, the addiction epidemic, and generational hopelessness among them.
Oasis     The Masterplan
25th anniversary edition of album containing the B Sides of singles from 1994 to 1997.
Johnny Marr       Spirit Power: The Best of Johnny Marr  
Compilation marking the first ten years of his solo career and containing two new songs.
Mermaidens      Mermaidens     
Fourth album from New Zealand indie trio
Christian Kjellvander     Hold Your Love Still        
A record that finds the Swedish troubadour in a reflective mood, exploring the difficulties of an honest life amid the entanglement of capitalism, and imploring us to nurture that faltering hope for a better tomorrow.
Atka       The Eye Against the Ashen         
Musician citing Joy Division and Kraftwerk as her formative influences. Her album reflects her studies of Jean-Paul Sartre's theory of the gaze through storytelling. It was mixed by Damon Albarn.
Leatherette        Small Talk           
It boasts some of their most unabashed pop songs to date – albeit pop that's twisted, pointedly perverse and ready to explode when you least expect it. It also contains some of the group's most challenging and uncompromising noise yet, the violent swinging back-and-forth between ugly din and nagging tunefulness.
Cauldron             Suicide in the City           
Birmingham metalcore quintet unleash a concept album based around a group therapy session in Seattle run by the main character of the story, Tristram St. Claire.
Tashi Dorji           Guitar Improvisations and Tashi Dorji    
First vinyl releases for two albums originally on cassette a decade ago. Dorji's improvisational style blends his metal roots with the influence of the gamelan.
Hotline TNT        Cartwheel          
Shoegaze pop sounds paired with skywriting guitars that bathe in distortion, blown-out drums, and honeyed vocals.
Van Morrison    Accentuate The Positive              
Morrison returns to one of his childhood passions, rock'n'roll, on an album that features covers of the likes of 'Shakin' All Over', 'Lucille' and 'Shake Rattle and Roll' and features contributions from Jeff Beck, Taj Mahal and Chris Farlowe.
Snail Mail            Valentine Demos EP      
EP consisting of four early stripped-down recordings of songs from the 2021 album.
Campbell / Jensen          Turtle Cottage  
A new project from two musicians with a vast array of experience across the worlds of Americana, country, bluegrass, gypsy jazz and rock.
Delilah Holliday                 Invaluable Vol 2 EP         
Veering from industrial club anthems to atmospherically produced moments of euphoria, Delilah blends glitchy electronics with crisp rhythms.
Crystal Fighters                 Light+   
An album packed with ideas – from rave workouts to tropical pop, from hints of cumbia to delicious pop melodies.
Adela Mede       Ne Lépj a Virágra            
Slovak-Hungarian artist who embellishes carefully crafted songs with minimalist and folklore influences, but also embraces more experimental approaches.
Sadness and Complete Disappointment                 GBH EP
Intricate soundscapes layering dark, grooving bass riffs, melancholy-soaked guitar, hazy soprano vocals and an overall feeling of heavy.
Teddy<3               Teresa  
Artist whose songwriting and production credits include P!nk, Leon Bridges and Caroline Polachek with an album inspired by a three month period of self-discovery living in Madrid.
Sleep Outside   Lakes In Which To Drown In       
Emotionally driven rock trio whose EP explores the notion of "selling out", day to day anxieties, struggling with your identity and loss.
Girl & Girl           Fight Night EP   
Five track EP from new Sub Pop band
Theo Bleak         Pain EP
An EP that finds her pulling influences from BritPop, Nu Metal, The Sundays, Cocteau Twins and Red House Painters. Other inspirations include the writings of Anaïs Nin, teen romance movies, her early 2000s family photographs, Jane Austen, her boyfriend, and vivid depression.
Katy J Pearson  Katy J Pearson and Friends Present Songs from The Wicker Man              
Self-explanatory eight track EP that features guest appearances from the likes of Wet Leg, H Hawkline and Orbury Common.
Reality  Improvised Metal for Guitar and Saxophone     
Two pieces featuring feral and brash saxophone with guitar, though defiantly rooted in metal-hardcore and thrash metal, that is tuned low to Open C,
Satan's Fall         Destination Destruction              
Finnish heavy metal band whose album features eight powerful metal songs and two cover bonus tracks, performed with speed and virtuosity.
Svartanatt           Last Days on Earth          
Swedish rock band using melodious guitars, heavy organ, high energy drums, groovy basslines and sharp vocals.
Enola     All is Forgiven EP             
Non-binary artist inspired by the upfront poetry of Patti Smith, the melancholic atmospherics of Joy Division and the snarling conviction of IDLES.
Tu-kay & Ryan   Companion       
Acoustic duo blurring the lines between folk, Americana and roots music.
University           Title Track EP    
A band who describe their sound as "like getting punched in the face by a gorilla but then being cuddled afterwards".
Morne  Engraved With Pain       
A band as rooted in Celtic Frost as in Ministry with a spacious, crushing, dark-thoughtful album.
Los Santos           El Corazon          
A punk rock band featuring members of The Saints and The Members, with Wonk Unit members, Alex Wonk on drums and X Ray Vez on lead vocals.
Atreyu                  A Torch In The Dark EP 
A band taking inspiration from pop-punk, hardcore, thrash, '80s rock, and more melding into a varied sound.
Allen Ginsberg                  The Lion For Real            
Reissue of 1989 album which saw the beat poet accompanied by some of the guiding lights of Jazz in the modern era: Mark Bingham, Bill Frisell, Arto Lindsay, Marc Ribot.
Sing Leaf              Remote Motel 
Haunting ambient meditations such which summon that daunting feeling of following a solitary path through the unruly wilderness and forgotten avenues.
Kontrust              Madworld          
A band fusing various genres like reggae, pop and dance with heavy hard rock riffs, spliced with their very own way of representing the roots of their home country (Austria).