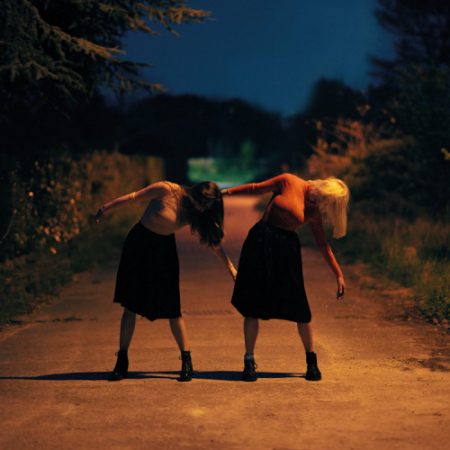 'Carried In Sound', the sixth album by Smoke Fairies, was recorded at home in a terraced house with the volume turned down to protect the neighbours. Recorded at the dining room table using a SM38 microphone and an old laptop, it incorporates whatever instruments were available, including a broken snare-drum borrowed from a nine-year-old neighbour, bin lids, a suitcase and a jumble sale keyboard. So far, this brings back unwelcome memories of the surfeit of lo-fi demo tapes I received as a fanzine editor in the 1990s. Fortunately, what Smoke Fairies have created is far from a scratchy lo-fi sound. The voices of childhood friends, Katherine Blamire and Jessica Davies, have always been the outstanding feature that has marked out their music and they have never sounded better: intimate, harmonious and raw. Long-term collaborator, Neil Walsh, adds wistful viola parts that are overlaid to create a one-man orchestra and blend perfectly with the duo's guitars to create a lush sound.
The mood is set immediately with opening song, 'Vague Idea', beginning with Blamire and Davies' harmonies, accompanied by spare guitar as they dissect a disintegrating relationship once founded upon the idea of marriage. It manages to be simultaneously heart-breaking and beautiful. 'Vanishing Line' retains that feel, very much a pandemic-tinged song taking in the actual loss of those who once felt immortal ("Grey wings of grief / Death bird waking") while gaining solace from nature and maximising each moment. The harmonies are shiver-inducingly sensational.
The title track has a deeper, resonant guitar sound and a more percussive element, the vocal harmonies shifting to a darker turn before rising. It reflects on whether those who have hurt others are aware of how they are seen and whether there will be karmic retribution. In contrast, 'There Was A Hope' is led by piano and viola, giving off a hymn-like vibe as it considers thwarted dreams, it is another song of such fine-edged sharp beauty. Representing a further shift in emphasis, 'Seek It With Me' is set in the early stages of a relationship and filled with the desire to leap into the unknown and build a home together ("I come to you meaning to stay").
'Sticks and Stones' marks a different lyrical approach with an unreliable and highly anxious narrator, although one who is initially easy to identify with as she reflects common relationships to music in the opening words ("I listen out for lines that comfort me / So that I know I'm not so strange /Hear them sung in song / And they really spur me on / To continue with my day"). The voice starts to crack as she sings "I have done my research" as the character collects sticks, cans and stones to build an ark, the huskiness sounding like a latter-day Kristin Hersh.
'Part Of It All' becomes a reclaim the streets moment, charting an environment lacking in compromise but a desire to feel safe and connected wandering the suburbs. It has the heightened restraint of a gentle guitar line merging with the viola and their ghostly voices. The reunion of an unsuited couple who have never been able to find ideal company is charted on '2002'. In many ways, the meeting is still a bad idea ("Come back to see me / I've not changed my ways /I'm still terrible") but also in its celebration of their few good moments, it is a refreshing view of challenging relationships decorated by gorgeous voices.
Turning to mythology, 'Perseus' is named after a Greek god who rescued Andromeda from a sea monster and beheaded Medusa while using it within the song as a veil to reflect on heroism in a relationship and a father drifting into dementia, creating a melancholic atmosphere. The song 'Come To My Mind' was started 20 years ago about a man who was a 'one man show'. However, it celebrates increasing wisdom and the reduced fear of being alone that dominated more youthful decisions.
It is an interesting decision to end an album that has placed great emphasis on the voices of Blamire and Davies with 'Seek It With Me (instrumental)' which is not technically an instrumental as it features their wordless harmonising but it does serve to highlight the excellent arrangements through the album.
Ultimately, 'Carried In Sound' is a spellbinding collection of songs reflecting on aging, loss and memories yet imbued with an indomitable spirit and moving voices. Its release will be accompanied by a short tour of spectacular churches and ruins which should be ideal venues for songs that have almost a spiritual quality.
Smoke Fairies: Carried In Sound – Out 17th November 2023 (Year Seven Records)