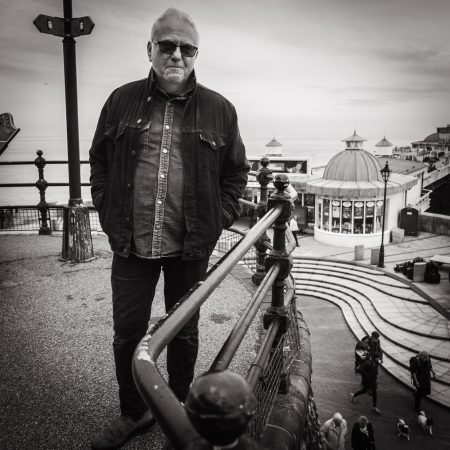 Wreckless Eric has been one of the UK's best songwriters for over forty years, with his wry, witty observations on everyday life, matched with a melodic charm, which has seen him storming the charts in the late 70s, and releasing nineteen albums over the last few decades. His latest release, the brilliantly nostalgic 'Leisureland' sees him combine his punk rock ferocity with folk blues to create an astounding album reflecting the quirkiness of the great British seaside. Whilst embarking on his recent UK tour, we caught up with the Sussex songwriter, who now resides in upstate New York, to find out how, at almost 70 years of age, he hasn't lost his love of song writing, and adventure….
 Your latest album 'Leisureland' has a feeling of lost seaside towns, with songs like 'Esplanade By Moonlight' invoking that coastal resort feel, plus the album artwork reminds me of the arcades in Blackpool I used to visit as a kid. Was that one of the themes you wanted to explore on this album, and if so, why does that fascinate you?
It's what I grew up with – seagulls, gale-force winds, sea spray lashing against inadequate single-glazed windows. They say write about what you know.
In the song 'The House Above Tina's Grocery ' you mention "this house means everything to me". Is it a celebration of a particular time in your life, and if so, why does it mean so much to you?
I didn't write Tina's Grocer, it's by Kevin Kinney of the American group Drivin' n Cryin'. I recorded it for a tribute album and they put it out as a single. It has nothing to do with Leisureland or my work with Tapete Records.
'Standing Sunday Morning' has a beautiful hypnotic feel to it, the lyrics depict the discarded remains of the Saturday night before, yet the music reminds me a bit of the grooves of Can, Neu or Stereolab. What influence, if any, did those bands have on your songwriting?
I saw Can play in 1972. I've always been a fan of electronic music and electro pop. I got into techno in the nineties without really realising it had happened. I spent a lot of time in Germany, practically lived there at one time. I'd listen to bleeps and drones and mutated drum machines for hours on end and yet if someone asked me if I was into techno I'd say of course not! I'm not always good at joining up the dots.
I read that Your Wreckless Eric name, either came from your knack for taking risks in your younger years, or it was just a cool stage name to hide behind? Is that true and what advice would you give to your younger self?
I'd advise my younger self to straighten up and pay attention, to stop hiding, to not listen to fools, to enjoy life more than he did. But he probably wouldn't listen.
'Whole Wide World' is a timeless classic, and now seems to be gaining you a whole new audience due to its use in TV shows and on an advert. How has your relationship with that song changed over the years?
I wonder how my relationship to the song has changed. I wouldn't play it live for years, I saw it as a millstone or an albatross. These days I'm proud of it but I never want to use it to prop up my live shows, it's just in the set somewhere. I saw Kris Kristofferson play – just him with an acoustic guitar and a harmonica – he's written a ton of hits – his second song was Me And Bobbie McGee. He didn't make a big deal out of it, he played songs he'd just written, songs that were huge hits – Help Me Make It through The Night, Sunday Morning Coming Down – as though it was no big deal. He made mistakes, got the wrong harmonica so it was completely out of key, and just laugh about it.
You've lived in the Catskills in NY for about ten years, which sounds a beautiful place to live, how did you end up there, and how has it affected your songwriting over the years?
 My songs aren't really influenced by beauty. I was influenced by the bumper stickers on the back of pickup trucks, all manner of obscenity there: Gun Control Means Both Hands On The Rifle… I'll Keep My Guns And Money, You Can Keep The Change… God, Guns & Trump… It's a beautiful place and the village of Catskill is very cool – Catskill is not in the Catskills by the way – but there's a lot of poverty, and the ignorance, anger and frustration that always brings along with it.
Apart from that I've been lucky to be able to record with some great musicians who happen to live in the neighbourhood.
Growing up in Newhaven who were your inspirations either musically or non-musically and why?
There's nothing musical about Newhaven! I used to go to Brighton to see bands play – the early Pinkfloyd, Family, Doctor John The Night Tripper, The Edgar Broughton Band, The Pretty Things, Procol Harum, early Hawkwind, Kevin Ayers… a lot of underground and psychedelic stuff, and folk rock – Pentangle, Sandy Denny…
When did you realise you wanted to be a musician full time and if you weren't doing music full time what job would you probably be doing?
I'd be a retired schoolteacher. That's my cover – I tell people I'm a retired geography teacher, it shuts down any conversation. I decided to become a pop musician when I was nine. I never wanted to do anything else. I'm an artist.
When you're writing, do you just record on to your phone or do you go old school and use a 4 track, and then how does it develop? On the song 'Standing Water' you mention 'recording songs on a 'Tascam Portastudio 44'.
I record lame demos on my phone – I never make a big deal of the demo, it's just a way to remember it. I've spent a lot of time in recent years fucking about with a Tascam 424 Portastudio. You can do great things with a portastudio.
What's the best and worst elements of touring?
It's really boring. It's a thrill ride. It's exhausting. It's a great excuse to let things slide – I can't deal with that, I'm on tour… You don't have to think creatively about what you're going to do with your time, the days are preordained – it's a cop out! It's fantastic to see all the people that spend money on tickets and take the trouble to come and see you play,  – that really is the highest compliment, I find it very moving.
You've released nineteen albums over the years under various guises, what's next for you, more songwriting as Wreckless Eric or with your wife, the great songwriter Amy Rigby, are there any other projects in the pipeline? 
My autobiography from 2003, A Dysfunctional Success, is being reissued next year. Before I set off on this tour I just finished mixing Amy's new album which I engineered and produced. I'd like to do more engineering and producing for other artists. I'll be seventy next year – I'd really like to have another album out in the year of being seventy.
Wreckless Eric: Leisureland – Out Now (Tapete Records)
Wreckless Eric plays Gullivers, Manchester on 2nd November 2023, as part of a full UK tour
02 MANCHESTER Gullivers
03 HULL The Wrecking Ball
05 BARNOLDSWICK Music & Arts Centre
10 WINCHESTER Swiss Cottage (early show)
10 WINCHESTER Swiss Cottage SOLD OUT
12 COATBRIDGE 50rpm
13 EDINBURGH Voodoo Rooms
14 GLASGOW Rum Shack
15 NORTH SHIELDS  The Engine Room
16 DURHAM Claypath Delicatessen
17 LEEDS UK Brudenell
18 GLOUCESTER UK Guildhall
19 COVENTRY Just Dropped In SOLD OUT