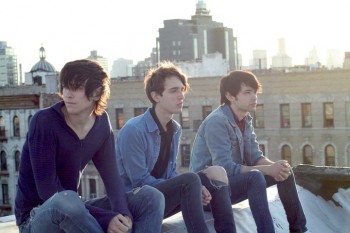 – THE DEAF INSTITUTE, MANCHESTER –
Three Blind Wolves are a trodden jingle jangle sound with warm brandy brushed harmonies. The band mix the sounds of traditional folk and shanty sounds and work them through a modern day filter.
Singer, Ross Clark's voice was rather impressive. It mirrored the sounds of Robin Pecknold's from Fleet Foxes, especially in their song, 'Emily Rose'; he has the ability to shift his range completely but make it sound husked and round. 'Hotel', another driving track that falls elegantly together, telling a story that rambles and shifts to different rhythmical treatments.
It's a shame that some of their songs seemed to take to a more immediate commercial sound and formula at times. I enjoy their more wholesome and characterful songs that aren't afraid of stepping into self indulgence, such as 'Hopeless Romantic'.
Beach Fossils are a one man band in the recording studios but a four piece on the road. Dustin Payseurs has made a record sound like sunshine on an autumn day where the leaves on the orange trees flutter in the slight breeze. It sounds sublime, refreshing and ambient and has a reserved energy that makes it a treat for the ears.
Live, I'm Umming and Ahhing. Payseur is joined by 2 other guitarists and drummer. They are good. They have a presence, a very young one, they jump around and seem to like the noises they make, but there is something not quite right.
Their sound tonight is bright. Payseurs vocals have little or no reverb, losing the darkness and slight sombre tone that the recordings manage to capture.
'Daydream' sounds lovely. The dancing padded bass and the resonant guitars playing their simplistic lines with perfection. Never a solo from them, they restrain from such things, which I admire about them. Their set gets better as it goes on as they see to warm to the crowd.
The set patters on.'Youth' also another stand out track in their set, starting with the lovely organic sounds from the guitars joined with drowned harmonies from the other band members. They preserve a nostalgic and pure innocent sound on stage.
I think my favourite is 'Golden Age'. It seems to swagger and fall heavier than the other tracks in their set, the taught mesmerising drum rhythm consisting of snare and tom snapping away.
I feel like they are unsure of their set, it's almost as if they get bored. When it comes to their last song they decide to do a cover as they admitted that they had no more practised songs left to play and they seemed to lose some dread which they must have felt throughout their whole set as they spark and bring a fresh energy to the song.