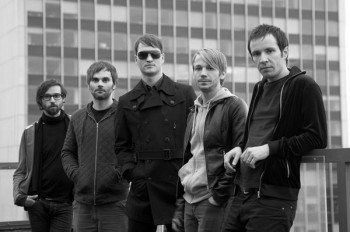 – ROSI'S, BERLIN –
Hiding behind a sofa from the robotic horrors of Berlin's Dalek of a techno-electronica obsessed club scene, Germany's indie loving musicians too rarely peak out to make themselves seen. Rosi's on Revaler Strasse then, is an ample opportunity for them to make themselves known. All cracked brick walls and marker pen tagged, it is the quintessential Berlin music venue, and a packed house of predominantly German music fans gives lie to the idea that these kids only ever listen to minimal. At the forefront of this guitar hungry mob appear to Karlsruhe natives Diego. Fresh from the release of their third studio album Gold and at the start of a nationwide tour, it won't be long before these boys break out of local notoriety and begin to capture imaginations across Europe.
Whilst comparisons with Editors are inevitable- though not entirely unwelcome- these post-apocalyptic soundscapes of broken glass and grinding metal seem so appropriate as an antidote to the attempted commercialism of Berlin. Until recently Berlin was characterised by the stony tracts of no-man's land around Potsdamer Platz, and Diego evoke notions of attempts to flee across that wasteland and produce a sounds that is at home in this semi-derelict environment.
The crowd grow restless as they await for Diego to begin, and the low ceiling heat and claustrophobia is matched by the sounds from the band. Subtly changing and painstakingly constructed guitar layers are the back drop for heartfelt and caringly delivered vocals. Metallic basslines and feverishly snare driven beats are evocative of Joy Division and the material from the new album is warmly greeted by a crowd clearly familiar with the band. It feels like a triumph for these music fans to see enjoy such a spectacle; it's clear that the DJs and producers so dominant in Germany's music scene are not the only voices to be heard.