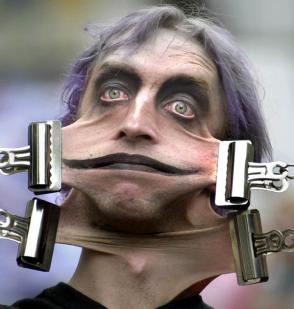 – THE RITZ BALLROOM, MANCHESTER –
Monday nights at the Ritz used to be a festival of freaks and weirdos, set to a soundtrack of rock and metal. It was great for a youngster, and there's nothing in Manchester nowadays that really draws the same crowd on a regular basis. I miss it, but fortunately I have a chance to relive it tonight when the Bizarre Ball comes to town. Sponsored by Bizarre Magazine (of fetishes, freaks and sexy ladies fame), it's touted as a festival of all things alternative.
Like quite a number of people, we arrive having missed some of the music on offer, including 'Obsessive Compulsive'. Unlike quite a number of people, we are dressed relatively normally. There are all sorts on show (mostly flesh) and some fantastic costumes as well as a good few 6-foot transvestites.
I am a bit surprised by the Smurfs and Bananaman, and more than a bit distracted by the ladies, many of whom look pretty stunning in their skimpy outfits.
Looking at the bill, I think the acts were very well chosen: Rolo Tomassi are a seriously heavy math-core band with a great live show – singer Eva Spence leading from the front with hypnotic hips and an impressive voice. They have loads of energy, and their dark, aggressive sound fits well with the theme of the night.
80′s Matchbox B-line Disaster are the headline act of the night. They have a very sludgy swamp-rock sound, and they're a pretty unique-sounding band. However, in this setting they come out looking relatively tame and normal. It's not a bad set – there's a nice mix of tunes from their latest album 'Blood and Fire' and older material, but the acoustics in the Ritz aren't great, and the vocals don't really come out very well. Still pretty good though.
A mention is due for the two excellent compères, the sassy, sexy Alex Fox and the white-suited, Baron Samedi-esque Des O'Connor. His ukelele song about necrophilia is probably the trippiest moment of the evening.
There are burlesque dancers, and a photo-set made up like a bondage dungeon.It all contributes towards the theatricality and the overall Bizarreness of the night. There's so much going on that it's hard to give an account of all of it, but it's good, dirty fun all night long.
The final act of the evening is 'The Circus of Horrors', which is not actually particularly horrific, but is very circus-esque. A few magic tricks, some very attractive dancing ladies and the 'Mongolian Laughing Boy' – a human pincushion – who at one point gets stuck to a two-by-four with meat-skewers through both of his arms and his tongue.
It's an interesting show, but it's always a disappointment for me to miss music, and I would have preferred it if the bands had carried on later in its place, but that's personal preference.
The general reaction from the crowd is lively, and there are clearly more than a few fans of 80′s Matchbox here, but the response for the bands and the live acts was not as strong as for the double-team DJ set which followed them. Paradoxically it seems that these outsiders are most comfortable with the familiar. The set rounds off a really good, fun event, and one that sets itself apart from run-of-the mill club nights in so many ways.