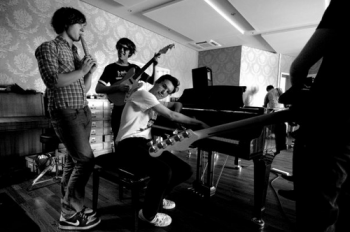 Three albums into their career, Manchester's Dutch Uncles, a group who pitched their tents firmly in pop's leftfield with their eponymous first album before releasing Memphis Industries debut Cadenza in 2011, have made another huge step forward with their forthcoming album 'Out Of Touch In The Wild'.
The album is due for release on 7th Jan 2013, and the band head out on a full UK tour in February:
5 February Newcastle, The Cluny
6 February Glasgow, The Art School
7 February Leeds, Brudenell Social Club
8 February Liverpool, The Kazimer
9 February Sheffield, Leadmill (Steel Stage)
12 February Cardiff, The Moon
13 February Brighton, Green Door Store
14 February London, Hoxton Bar & Kitchen
15 February Birmingham, Hare & Hounds (Room 2)
16 February Manchester, Gorilla
Tickets are onsale now.
There's been no great reinvention on the new album, just great progress: this is a refined version of Dutch Uncles doing what they do best: making labyrinthine pop of Escher-like complexity and crystal clarity.  Unlike previous outings, 'Out Of Touch In The Wild' was written and conceived as a full 'studio' album, allowing for greater creative freedom, more sophisticated arrangements and a much larger sonic palette, seeing them utilise strings, piano, analogue synths and tuned percussion more so than guitars.
The band's underlying influences remain but this time around see's Kate Bush, Igor Stravinsky, Japan, Prince and Neu! all intriguingly thrown into the mix. In spite of this, says singer Duncan, "it's still an album to be listened to with pop ears, and not to be considered as an overblown prog-math-rock-bloody-time-signature ideology."