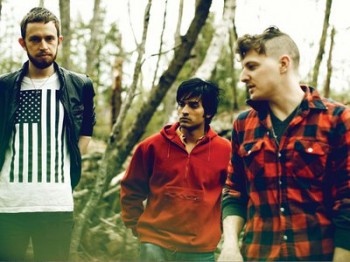 – ACADEMY 2, MANCHESTER –
How can you tell if a band is on the edge of commercial success? Have they been invited back to Later with Jools Holland? Check. Has BBC 6 Music played one or more of their songs to the point of exhaustion? Check. Has Drowned in Sound gone cold on them in a petulant 'it's not fair, I found them first!' attitude? Check.
And so the pattern re-draws itself for Yeasayer, the Brooklyn-grown five-piece, who's first LP in 2007 was lauded by underground music critics for its lack of self-consciousness, mirage-y shimmers and psychedelic boldness.
On one hand, bearing this in mind, along with the throwing in of some pop-friendly, catchy-choruses, weird morphing videos and increased airplay, it's hardly surprising that Yeasayer's second album Odd Blood has been so well received.
On the other hand however, flitting from sound-to-sound at a whim, putting their own curiosity before the temptation to market themselves and their apparent lack of a damn when it comes to dressing for the camera – a massive contrast to their own pristinely stylised videos and fellow next big-thing New Yorkers the Strokes, Yeah Yeah Yeahs etc – it seems miraculous that Yeasayer have managed to get themselves splashed by the mainstream.
Contradiction, then, is the word in the air as the band tackle the Manchester leg of their latest tour – one that will take them across the UK, Europe, South America and Australasia until February.
As with any band that plays hard to get with its fans, there are some surprises tonight from Yeasayer. One is the relatively stripped-down set, which is compensated for by the stunning use of lighting.
The other is that seemingly meek and diminutive Anand Wilder holds down a much meatier, reverberating vocal than the band's recordings suggest. For such a small guy, he has a formidable pair of lungs and this is most apparent as the band launches their set with latest single 'Madder Red'.
A second surprise is that, despite his animated and spirited efforts as the band's kind-of front man, Chris Keating's tones tonight come across as fuzzy and hardly audible.
Whether this is due the two percussionists and interweaving sounds drowning him out is hard to determine. However, there are no points lost for effort as he does not disappoint when it comes to riling his enamoured audience.
One thing that is striking, and refreshing, about Yeasayer on the stage is the level of participation from each band member – there are no set job titles here as they meander about, handing one another instruments between songs.
No individual appears to be isolated, rather, there is a sense of shared effort and appreciation – something relatively rare in a musical climate with a prevailing 'three guys, three guitars and a drummer' attitude.
Highlights of the evening include the weaving sitar melody of 'Wait for the Summer', the cascading intro of encore '2080', the disco-cool of floor-filler 'O.N.E' and of course, a beautiful rendition of Happy Birthday for 27-year-old drummer Ahmed Gallab.
For a band that look set to be hot property over the next year at least, there are questions that will doubtlessly fly through the air during their current tour. Are Yeasayer the next big thing from New York? Will they find themselves stuck at the crossroads between probing experimentation and wider appeal? Is their indie-psych-electro experimentation going to give way to unadulterated pop on their next album?
As anyone might say to a child pulling on their sleeve asking "why?", "why?", "why?" – there isn't always an answer for everything. And that's something we should be really glad about.