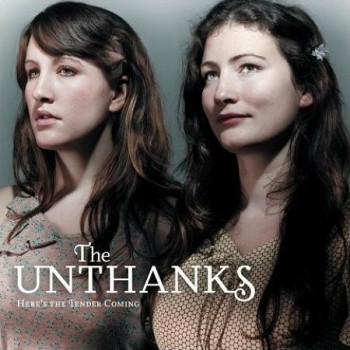 – BAND ON THE WALL, MANCHESTER –
Few genuine folkies – singing the songs from their home region, raised on a diet of clog dancing and folk festivals – cross over to the mainstream music and achieve actual kudos.
Of course, The Mercury nomination had something to do with Rachel Unthank and the Winterset's sudden mainstream interest, but this is no flash in the pan – their post-Mercury offering is released to great acclaim and the audience here at the newly refurbished Band On The Wall is decidedly non-folk.
The name change is to reflect younger sister Becky's equal status which in reference to latest album, Here's The Tender Coming, makes perfect sense. Tonight, however, it becomes Becky's show: her unique rasping vocal consistently takes centre stage, and with her fearless onstage presence – looking directly into the eyes of the audience to command attention, unlike Rachel who tends to close her eyes – the crowd are left entranced.
Understandably, the majority of tonight's repertoire comes from the latest album, with the doom-laden chords of the piano and stark arrangement in 'Annachie Gordon' the evening's absolute highlight. The audience, again, seem spellbound – the verses keep coming and there is an unmistakable collective exhalation at the end.
There is also a nod to The Bairns, with 'Felton Lonnin' and a newly rearranged version of 'Blackbird' that is welcomed, the previous twee elements kindly dropped.
And although the band has expanded to include 'boys', as the girls cheekily announce, their use of multi-instrumental session musicians diminishes fiddler Niopha Keegan's role so that she becomes one of an ensemble. The amount of musicians on stage could provide potential cacophony, but instead arrangement is careful and thoughtful.
But it is obvious that it is the Unthank sisters everyone is here to see – and even if they and their clogs were here on their own, there would be no complaints