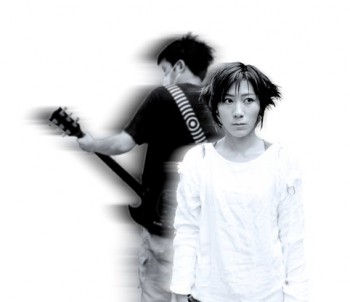 – ISLINGTON MILL, SALFORD –
Tonight's bill boasts a fine selection of avant-garde rock acts which has enticed a suitably weird and wonderful crowd to Islington Mill this evening.
Underground multi-media act Jackdaw With Crowbar kick proceedings off. This current incarnation sees the band performing as a three piece, featuring dual vocalists and a heavily distorted slide guitar played over pre-recorded loops. The vocalists writhe around the stage theatrically (one of them appears to be performing as Morrissey's demented alter ego) while delivering Mark E. Smith style diatribes to a backdrop of projected images soundtracked by a combination of Post-Punk, dub and distorted disco. While their show is entertaining to begin with, the novelty wears a little thin by the end.
Next up are Pocketknife, a locally based three piece. Vocalist and guitarist Sian Harwood's ear shredding screams augment their abrasive slow, heavy, post hardcore, but they lack the chemistry and stage presence to create any real lasting impression.
By contrast, Dutch experimental punk legends The Ex look totally at ease on stage. The vast majority of tonight's set consists of material from the excellent current album, 'Catch My Shoe,' the bands first since the departure of vocalist and co-founder G.W. Sok last year. While most bands would struggle to recover from the loss of such a pivotal figure, The Ex suffer no such setbacks. From the minute he sets foot onstage frontman and guitarist Arnold De Boer is in total control.
Opener 'Tree Float' is built around a simple but effective choppy guitar line, and is full of controlled, nervous, stop start energy, while 'Double Order' (one of several highlights) begins with cowbells and rolling snares before building into a cacophony of squealing guitars.
Drummer Katherina Bornefeld is crucial to The Ex's sound, and throughout the entire set her complex rhythms propel the songs forward and keep the crowd moving. She is a joy to see and hear.
As '24 Problems' brings the set to a close, The Ex receive a deservedly rapturous ovation, and it's a shame there isn't time for them to oblige the crowds request for an encore before Melt Banana take to the stage.
The crowd has thinned a little as Melt Banana begin there set. All the lights in the venue are killed as the Japanese noise act appear wearing head torches that cast their beams out across the audience. The opening three songs focus on the more electronic side of their repertoire and they create a futuristic sonic landscape befitting of a science fiction film, before the lights come on and they launch into the hundred mile an hour thrash they are more associated with.
Yasuko Onuki is a hypnotic presence as she yelps her way through each song with boundless energy, while the speed of guitarist Ichirou Agata's riffing is staggering, and an appreciative mosh pit is quickly established.
At times the set begins to feel a little repetitive and 'Cracked Plaster Cast' comes as a welcome relief, with its more melodic moments serving to highlight the complexity and skill of its thrashed out interludes.
It's been a night of highs and lows, peaks and troughs, but there has rarely been a dull moment.