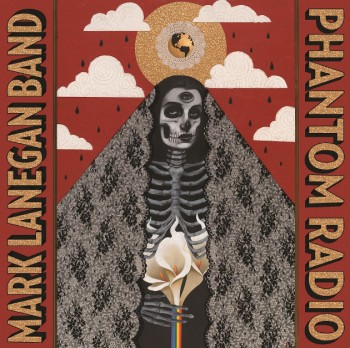 In my review of Mark Lanegan's recent No Bells On Sunday EP I predicted that the subsequent album, Phantom Radio, Lanegan's third as the Mark Lanegan Band, would be a good one. Assuming he hadn't used up all his best songs on the EP that is. Well, it does seem he used up quite a few of them.
When I first heard first single and album lead-off "Harvest Home" on the radio, I was decidedly underwhelmed. And yet, and yet, three days ago I found it stuck in my head as I cycled to work. And then again the day after. But do I like it? Like some of Lanegan's other recent offerings, it's a bit dancy. Certainly dancier than one might expect of a former member of Screaming Trees and Queens of the Stone Age. Unlike some people, I don't mind that. It just feels that too many edges have been smoothed off Lanegan's sound, especially his voice. Sure, it's still quite rough – in a good way – but the growl is gone.
After "Harvest Home" comes the sparer "Judgement Time", with Lanegan's singing again a little too wholesome. Happily, he sounds more menacing on "The Killing Season", but the musical backing is overladen with keyboard/computer effects and is pretty uninteresting. The song would surely have worked better stripped back, as an a cappella number even. Far better is the almost hypnotic "Floor Of The Ocean", which draws you in with its appealing rhythm and light and dark touches.
Elsewhere, "Seventh Day" appears to take its cue from Alabama 3, while Lanegan nearly lapses into self-parody on the mournful "I Am The Wolf", singing about 'dying since the day I was born'.
Lanegan often packs his best tunes into 'side 1', but that is not the case here. "The Wild People", with its catchy refrain, and the enticingly titled "Death Trip To Tulsa", where Lanegan rediscovers his voice, are buried right at the end. Sadly, to get to them you have to sit (or skip) through a couple of duds: heartbreaker "Torn Red Heart", which sounds a bit like late-period OMD, only not as good; and "Waltzing In Blue", which drones on somewhat, with a weakish double-tracked vocal, a sluggish beat and more overdone effects.
Not his best effort overall.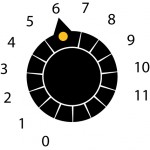 Release Date 20/10/2014 (Heavenly Recordings)
Mark Lanegan Band Official | Facebook | Twitter | Soundcloud