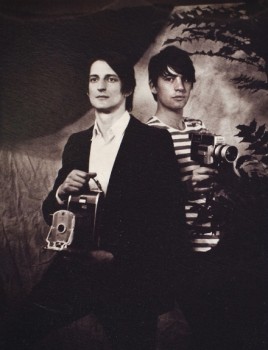 Symphonic pop band The Leisure Society have released a Bandstand Busking session on the eve of their support tour to Laura Marling's UK Cathedral tour. Full details of all the dates are below.
The Bandstand Busking session shows what people can expect from the current tour, which will be an acoustic set featuring band leader Nick Hemming and co-frontman Christian Hardy with 2 band members, scaled down from their 8-piece ensemble. The session witnesses The Leisure Society stripped down from their recordings' impressive layers of production and instrumentation, laying bare the excellent song writing skills of twice Ivor Novello-nominated Nick Hemming. Filmed on a glorious summer day this year at Arnold Circus in London, the session captures that feelgood atmosphere that the band carry with them to all their shows.
Watch 'Dust On The Dancefloor' below, an acoustic version of their new single out on the 24th October on Full Time Hobby
The single is taken from their critically acclaimed second album, 'Into The Murky Water', which was released in May this year. The album will be re-issued on Monday 31st October and will include a 7-track bonus CD of covers, instrumentals, oddities and rarities. The tracklisting of the bonus disc is as follows:
Flying
Weir Road
It Dissolves In The Writing
Notions Of What Is Right
Wanderin' Star
C'mon Anon
A Richer Dust
New Single 'Dust On The Dancefloor' Out 24th October
Reissue 'Into The Murky Water' Album 31st October
**********
This tour follows on from The Leisure Society's sold-out show at London's Union Chapel, plus an intimate and unusual acoustic gig at the SEA LIFE London Aquarium as well as being personally chosen by Ray Davies to perform and record with him as part of the Meltdown festival at the Southbank Centre.
Additionally they play a very special headline show at the London Barbican on Thursday 8th December 2011. The show will feature backing from the 30-piece Heritage Orchestra. Formed in 2004 by producer Christopher Wheeler and conductor composer Jules Buckley and based in the De La Warr pavilion in Bexhill, they are one of the best-known young orchestras in the U.K., celebrated for their collaborations with contemporary mainstream and experimental artists. They have recently worked with John Cale and also performed Vangelis's Blade Runner soundtrack at the Massive Attack curated Meltdown.
Special guest at the Barbican show will be fellow Full Time Hobby artist, Texan singer-songwriter Micah P. Hinson.
As a result of the Laura Marling support slots, the band have postponed their UK headline tour which was due to go ahead in October – the dates have been re-arranged for February / March 2012.
The Leisure Society UK Live Dates 2011/2012:
OCTOBER 2011
14th Exeter Cathedral *
15th Winchester Cathedral *
17th Guildford Cathedral *
18th Gloucester Cathedral *
19th Norwich Cathedral *
21st York Minster *
22nd Sheffield Cathedral *
24th Manchester Cathedral *
25th Bristol Cathedral *
26th London Central Methodist Hall *
28th Liverpool Cathedral *
29th Birmingham Cathedral *
DECEMBER 2011
8th London Barbican with The Heritage Orchestra + Micah P Hinson
FEBRUARY 2012
15th Norwich Arts Centre
16th Sheffield The Harley
17th Newcastle The Cluny
18th Clitheroe The Grand
25th Cambridge Junction 2
26th Birmingham Glee Club
MARCH 2012
2nd Belfast Black Box
3rd Dublin Whelan's
*with Laura Marling
And finally 'We Were Wasted', a track from their debut album, appears as the last song in 'Tyrannosaur', the latest film written and directed by Paddy Considine and starring Peter Mullan.