– THE DANCEHOUSE THEATRE, MANCHESTER –
Inside the Art Deco interiors of the surreptitiously situated Dancehouse Theatre, something pretty odd is happening. Onstage Alabaster Deplume appears to be having some sort of nervous breakdown/aneurism/? Having moved from a paranoid blaze of gentle strumming on his acoustic guitar, to an old fashioned typewriter where he repeats the number one while hitting the keys, he now stands twisted at the microphone trying to dislodge the word "I" from the back of his throat. Of course Alabaster isn't really a jabbering mental patient served up for cheap kicks so the audience can point and clap like fools from a bygone age laughing at the village idiot…though it would look pretty similar. No, this is a very cleverly crafted piece of poetic performance art, and Alabaster Deplume is something of a comedian/genius – confirmed later by a song he sings entirely in Russian about a man telling his horse to run a little bit slower so he can finish playing his song before the horse propels him off a cliff to his death. The little known Russian phrase, "ловко нюансы русской безумие" or "deftly nuanced Russian madness" in English does not go far enough.
This, my friends, is the annual Debt Records showcase. A night chocked full of larger than life characters, eccentrics, laughter, madness, and where the quality of the music comes second to the performance itself – but only just. Exceptional in every way, Debt Records ferociously puts itself forward as the most exciting label in town.
If Alabaster Deplume is harrowingly funny, Richard Barry, of Richard Barry & The Chaps, is side-splittingly, guts everywhere, blood all over the carpet funny. If General Melchett was a Carry On character and played in a band you would end up with this beguiling man. Strangely, the banter between the songs is more entertaining than the songs themselves. No bad thing, combining acoustic cabaret, bluegrass, rockabilly and comedy the songs are really rather good, but place this man onstage, anywhere in any situation and you will be down on your knees, eyes streaming with tears, thanking a god that you don't believe in that you bothered to step out of the warm comfort of your house to take in a show. Fuck me, the man is a genius. It is Debt Records' mission to bring this man to a wider audience…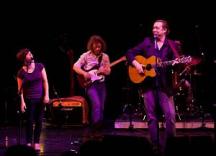 Elsewhere the focus is shifted onto the music itself; the flamboyance toned down and pushed back into the shadows. Becca & The Broken Biscuits is the least remarkable of the acts. Her acoustic songstressing gets buried beneath the enormity of the night, but she imbues her love songs with warmth, charm and clarity. Red Tides sound like a bluesier, lap steel embellished version of Swedish indie pop-lars The Concretes. The languid warmth of their music has a melancholic, Scandinavian element that speaks of windswept landscapes and barren, northern wastelands.
In strictly musical terms, Hannah Moulette, dressed like a lady what leisures from the Wild West, is the most accomplished. A highly skilled musician, she does for the cello what Joanna Newsom did for the harp – minus the caterwauling and quirky humour. Alabaster Deplume, who turns out to be a great sax man too, plays crackling serene embellishments that mirror much of Moulette's sublime playing. The instrumental is like moonlight over still water, and the cascading notes of another track are as disorientating as sinking into a K-hole. I really like her stuff.
Playing the guitar in a manner which Nick Drake would be proud, John Fairhurst is an exceptionally accomplished finger-picker. Unlike Nick Drake, his writing owes more to the blues roots music of Leadbelly and Muddy Waters as he howls and roars. His album is out today, watch out for the review.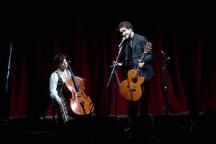 Louis Barabbas & The Bedlam Six are all energy, animation and excellence. Barabbas should be a Beards of Manchester posterboy, but here he makes for a yowling Tom Waites/Nick Cave – esque frontman, who sings about lust, love and the (un)limits to which a woman can cheat on him. Zestier than a fresh lemon being squeezed into your eye, and backed with banjos, trumpets, trombones and a plethora of other instruments, these guys make me want to tear up my seat and dance like a maniac, which is exactly what most of the audience do for the final song of their set and the night.
There are so many exceptional things about this night. The sheer scope of the music and variety of styles on offer keeps the audience not just interested, but transfixed. The camaraderie is palpable. When not centre stage, the musicians back up the other acts in various guises. This sense of unity gives the performance a swagger and intensity that would be otherwise unreachable. Best of all, where so many other people in the music industry react to plummeting records sales with threats of legal action against piracy – underlining the slimy, profit-hungry overtones of the industry's big players – Debt Records have reacted positively by making the live events as memorable and entertaining as possible. It is, of course, the live arena where the musicians themselves have always made the most money. Backed up by excellent recording artists, Debt Records must be the finest label in town, and I promise you we will be watching them very closely indeed. Hats off to you fine chaps!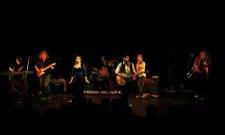 Here's their official website: http://www.debtrecords.net/
Top photo, and second bottom photo courtesy of Andrew Abrahamson.
Second top photo, and bottom photo courtesy of Richard Cowan.