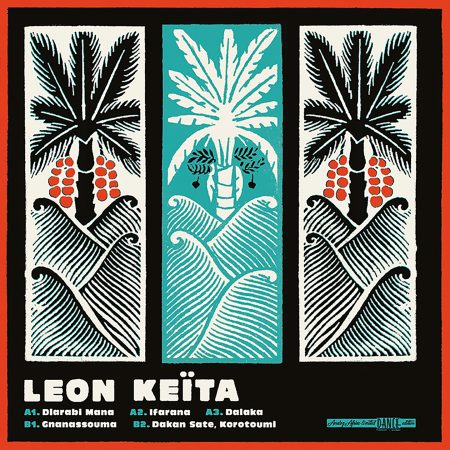 The best music can banish even the weariest mood. That has certainly been true for this album from Leon Keita, the latest release from Analog Africa, a German-based label that over the past 16 years has been devoted to excavating some of the finest music from the African continent made during the period from the 1960s through to the start of the 1990s.
For the sixteenth version of its dance edition, the label devotes itself to Guinea born Leon Keita who became a fixture of the Malian music scene where he formed the Piano Jazz Orchestra as well as working as a teacher, organiser of cultural festivals and an accountant for the Tobacco and Match Company. It makes him one of the few people in music admitting to having been an accountant, the only other example I am aware of is the unlikely Gibby Haynes of the Butthole Surfers. Keita also compiled reports for President Mobido Keita and would sometimes entertain delegates with a song at the end which seems incongruous, the idea of such joy in a government meeting.
He founded the Rail-Band which launched the international careers of Salif Keita and Mory Kante before joining Les Ambassadeurs Internationaux with whom he toured West Africa before departing to work on his own compositions which appear on this album. They are taken from two releases from 1978 on which he invited Les Ambassadeurs Internationaux to be his backing band and 1979's "Rythmes et Mélodies du Mali" which was co-written with his brother Germaine and backed by the Orchestre Black Santiago.
'Diarabi Mana' opens the album with arresting solo vocals before shimmering guitars join the fray quickly accompanied by sharp horns, lithe drums and psychedelic organ lines. Like all the record's tracks, they are of sufficient duration (between six and nine minutes) to develop a sustained groove and offer space for surprises, such as the kicking guitar improvs and the weaving saxophone lines.
Throughout the production is basic in the best possible way, emphasising the interplay of a live band performing together without any attempt to smooth out the sound and allowing each element to mark out its significant moments. 'Ifarana' instantly displays an uplifting combination of swirling organs, sunshine guitars, harmonies and gently nifty percussion.
Equally, 'Dalaka' begins with an enticing one finger organ melody, quickly moving up to a beguiling percussive rhythm which is compelling yet mind-blowing to analyse while the vocals are more abrupt and the guitars twist from a buoyant skip to an abrasive jolt.
'Gnanassouma' has lightly scampering guitar lines, upbeat vocals contrasting with emotive saxophone and wigged out organ soloing. The vinyl version concludes with 'Dakan Sate, Korotoumi' which adds some dub drums to its palette, together with racing organ and raw horn blowing.
The digital version of the album concludes with a bonus sixth track, 'Domanin', which maintains the uniformly high energy and glorious groove making 'Leon Keita' a great addition to Analog Africa's quality catalogue.
Leon Keita: Leon Keita – Out 6th October 2023 (Analog Africa)