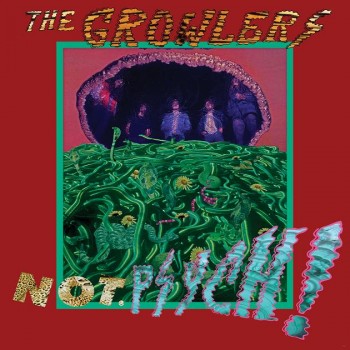 The Growlers are one of those rare bands that just don't give a shit; they play the kind of music they want to play and do it in their own way. Any band that has a record called Greatest Shits and a single named 'Gay Thoughts' is destined for stardom in my eyes. Made up of singer Brooks Nielson, Matt Taylor (guitar), Scott Montoya (drums), Anthony Perry (bass) and Kyle Straka (keys and guitar), the boys from California are the rock and rolling godfathers of the self-coined Beach Goth scene.
After the release of their 3rd album, Hung at heart, earlier this year, this prolific act are back with a 7 track EP called Not. Psych!. Opener 'Dogheart II' gets you in the mood with its jangly guitar and melodic undertones. Singer Brooks Nielson has a voice for storytelling and the knack of knowing when to let the instruments do their thing. 'Hiding Under Covers' sounds like a theme park ride until the chorus kicks in, which could almost be called anthemtastic in a gothic surf kinda way.
'Tell It How It Is' is a more serious affair, but never fear as the zombie rhythm section drenched in reverb keeps the party vibe going. 'Humdrum Blues' springs a surprise with a slow, drum infused intro with no guitars in sight. It is by far the most mainstream song on the album; in fact it may just be the most radio friendly song the band has ever released. The surf goth is back on 'Ol Rat Face', which smells like The Doors while 'Change in Your Veins' provokes images of Brooks swigging from a bottle of red whilst crashing about drunkenly in a haunted mansion.
The songs are short and snappy. The band knows when not to push the boundaries of a tune too far – some bands these days try too hard to achieve a certain sound, but The Growlers know when they have a good song on their hands and simply let it work the listener by itself. After a number of earlier releases and tours supporting bands such as the Black Lips, The Black Keys, Dr. Dog, Devendra Banhart and Julian Casablancas, The Growlers have built up quite the cult following. There is nothing on this EP that screams of change, which is a good thing in my eyes. It is actually surprising how melodic the 7 tracks become after a listen or two, and you become more aware of the fact that Brooks and co have that rare talent of writing catchy tunes that never seem to lose their underground coolness.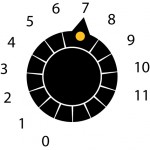 Release Date 14/10/2013 (FatCat Records)