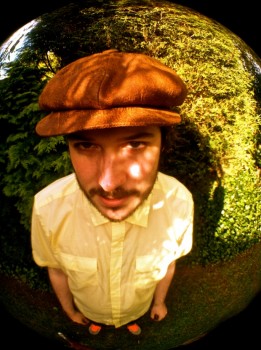 Since making 2011's largely electronic album The Grandad Galaxy – The Voluntary Butler Scheme's Rob Jones has been learning some new non-electronic skills in the shape of the Trumpet and the Saxophone.  Having learnt them largely from Youtube clips and iPhone apps – it inspired The Voluntary Butler Scheme to release his next single as an App single.
There will be no 7″, no CD, no I-tunes download … just a very cool VBS app containing all VBS videos to date, photo gallery, news, tour dates, VBS quiz, discography and links to back catalogue and most importantly of all the new single and b-side.
It will only be available on 'iTunes & The App Store', for iPod Touch as well as iPhone/iPad. For more information visit – http://itunes.apple.com/gb/app/the-voluntary-butler-scheme/id562909271?mt=8
Brain Freeze and Smoke Alarms both heavily feature the instruments Rob learned via the wonders of modern technology and are both taken from the forthcoming album 'A Million Ways To Make Gold'.  The album was recorded at Rob Jones' home studio and is due out early 2013.
'Brain Freeze' new single released 19th November 2012 on Split
The Voluntary Butler Scheme will be touring the release and onwards as a 5 piece band. First shows land at:
29th October – The Macbeth, London (Split records night)
30th October – Kraak, Manchester (Cloud Sounds night with Sweet Baboo & Onions)
2nd November – Skeleton Key (upstairs @ The Great Gatsby),Sheffield
3rd November – Flapper & Firkin, Birmingham (The Traps single launch)
www.thevoluntarybutlerscheme.com
www.facebook.com/thevoluntarybutlerscheme
www.thevoluntarybutlerscheme.bandcamp.com
www.twitter.com/voluntarybutler
www.youtube.com/voluntarybutlertv