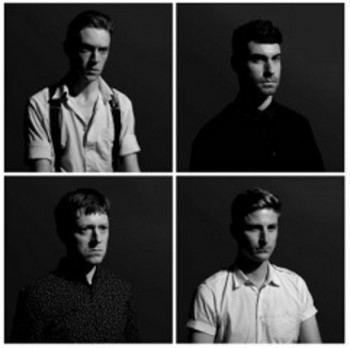 The music of the city, of the dark, of the underground basements and behind locked doors clubs is back. Night Engine, four young men with a belief in the power of music to move feet as well as minds, have been in rehearsals since their formation in January 2012 with the express intent of rekindling the idea of the groove and are now ready to step forth into the (artificial) light.
At odds with the prevailing trend for soundscape and wafting ambience, Night Engine are, as the names suggests, about motorik rhythms, Nile Rodgers guitars, fluid basslines, music to make you sweat and smile and jump around like a thing possessed. This is the world of Iggy through a late 70's lens, the sense of Berlin, Detroit and New York after dark pervades the songs – and what songs! Lead track 'I'll Make It Worth Your While' is just the tip of the iceberg and lays down their reboot of the Talking Heads jitters, the Bowie style ice cool and Funkadelic groove with class and precision.
This much you should know about Night Engine for the time being. They are led by singer guitarist Phil, a six foot plus rake topped with a shock of red hair and possessed of a voice that drips with emotion. Phil writes the songs and believes music must have an instinctive connection with the audience. His songs are direct but, we would add, devastatingly effective. Ed's bass playing drives the rhythm section with a combination of rawness strong melodic sensibility. Dom on keys adds the noises and samples that punctuate Night Engine tracks, bolstering the grooves or sending them just that little bit off kilter to drive the sense of madness that lurks just beneath the surface. Lee on drums, is a long term admirer of Buddy Rich and came to the band via stints in jazz and funk outfits; the perfect apprenticeship.
Night Engine make their London debut at the Sebright Arms on October 17th following a show for Norwich's Sound & Vision and preceding an appearance at this year's SWN Festival. Dates are as follows:
Thursday October 11th – Sound & Vision Norwich
Wednesday October 17th    – Sebright Arms, London
Sunday October 21st –   Swn Festival (Undertone)