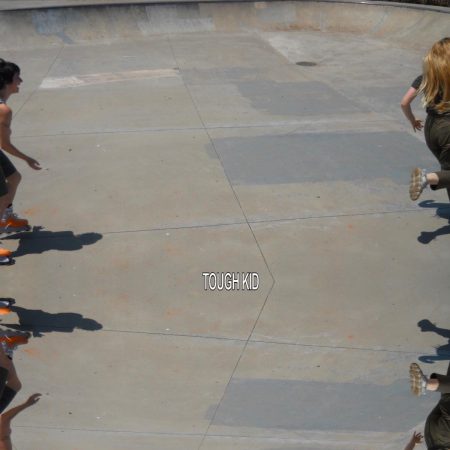 Daisy the Great's 'Tough Kid' EP is their first EP after releasing three albums, including the deluxe edition of 'All You Need Is Time'. It's undeniable that the musical duo have mastered their own sound, with their most popular track, 'Record Player' earning more than 60 million streams on Spotify, and with 850k monthly listeners for the band overall. With five songs and two music videos, the 'Tough Kid' EP is just under 20 minutes long, but there's a lot to listen to.
Ethereal harmonies introduce us to 'Glitter 2', where we're blessed with the perfect display of companionship between instruments and vocals. Even as the leading voice becomes more pronounced, there is nothing that could make this song any more relaxing. Throughout the three minutes, 'Glitter 2' reminds me of artists like Clairo or Phoebe Bridgers, with its cosy feel and calming effect.
'Looking U Up' takes a very cheerful approach to the torturous situation of being suffocated by thoughts of someone while desperately wanting to get them out of your head. Sugar-coated by an indie tune with an insanely catchy chorus, Daisy the Great have nailed yet another track. It's safe to say that they have a gift when it comes to turning typical dramas into beautiful songs.
Track three, 'Tough Kid' marks the middle of the EP with what can safely be described as soft poetry. Delivered through a slow melody, a message of reassurance is given to whoever struggles with the daunting feeling of being overwhelmed and left behind by everyone else. A nostalgic music video accompanies the song and somehow manages to soften the sensitivity of the lyrics, presenting clips of the two members feeling free and at ease around each other. The importance of friendship is radiated through the video, destroying the sense of loneliness that's brought to light from the lyrics.
A collaboration with illuminati hotties, 'Time Machine 2' closes out the EP. Troubling lyrics start with a daunting beat looming behind them; "We were right to worry," and "It's terrifying," draw my attention in, until an upbeat melody kicks in, catching me completely off guard. Biting guitar cuts through the now-steady tune, making the song all the more exciting. As a new take on their previously released song, 'Time Machine', from 2022's 'All You Need Is Time', the edgy music and intense structure turn this track into something that I don't think anyone was expecting. 'Time Machine 2' is a masterpiece, and the best way to close out the 'Tough Kid' EP.
The New York-born band continues to release absolute gems, and this rollercoaster of an EP has been nothing short of incredible. Daisy the Great knows exactly how to snatch the attention of everyone who listens for even a second and keep them hooked until the end. Only a year after their previous release, these five tracks satisfy the need for more music from Daisy the Great, but not for long. Growing with each piece they put out, it won't be long until this group is known across the globe.
Daisy The Great: Tough Kid EP – Out 6th October 2023