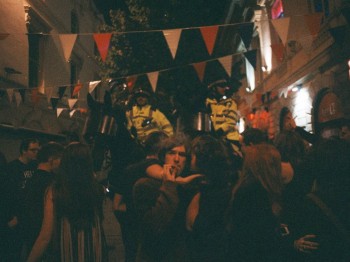 –  SATURDAY –
Saturday only begins for us around 4pm, kicking it all off once again in the Blade Factory to catch the shimmering guitar riffs of Psyence, Stoke-On-Trent's four-piece who right now are fuelling off the kaleidoscopic vibes in the air with tracks from their new 7" release Zebra. Psyence are a lesser known act at this year's fest, yet the weekend becomes the perfect opportunity to open the doors for their discovery. What I peg as one of the most enjoyable sets in Blade, it's easy to see that Psyence are looming on the horizon of cosmic takeover, so don't miss them if you get a chance.
It's still light out, and I feel awful, feeling the need to nurse this hangover with more cosmic brew, Psyk Pale Ale and official Psych Fest burgers. Being that we aren't swallowed by the darkness, daytime gives us a chance to turn the kaleidoscopes off for a bit and see the venue through smoke free eyes. I spot Liverpool's only Pop Up Record Shop, Ramone Records where festival goers are in the queue to purchase the limited 7" PZYK 0001 that became available only a few weeks prior to the festival's date. Psych Fest totes and tees are available for decent amounts, as well as Trouble In Mind's Liverpool 2013 12″. If you were lucky enough to get your grubby little mitts on a copy of the exclusive record, you won't be surprised to hear that it has now officially sold out of its limited run of 500 copies (yes of course I got mine), and it's most likely to become a collector's item (because they said it would.)
The size of Camp is in between Blade and Furnace, which makes it perfect to watch big bands but still feel like you're at a small show. "I think Camp and Furnace is the best place to hold the Psych Fest" comments Alex Wynne. "It's big enough and especially with the promoters ramping up the scales of the two day festival it just works with three stages. I imagine it would be hard to find somewhere else in Liverpool with the same size and layout to hold something like that."
The highlights of Day 2 continue with Carlisle heroes The Lucid Dream, who excel in creating a moody atmosphere in the Camp with their heavy drone, hitting the psychoactive core of what this festival is all about. Saying that, I got really into Icelandic psych overlords Singapore Sling this summer with tracks 'Girl Powder' and 'Guiding Light', but their set does not live up to the expectations. Fair enough they're on the more passive spectrum of psych, I get it and like that about them. But after praising Singapore Sling all day, the crowd is scattered, lifeless and most people leave after a few technical difficulties almost ended it early, which might have been for the better. "I think everyone has lived up to my expectations so far, except Singapore Sling," comments Dan Hewitson. "I like Dead Skeletons and with one of the members playing in the band I think I expected them to be a little bit better then they were."
Aside from the music, one of Psych Fest's most memorable is what we nicknamed "The Trippy Room." A collaboration between Spacemen 3's Sonic Boom and London-based screen print collective Heretic, the two came together to create an immersive audio visual installation in the Gallery of Camp and Furnace. Neon pinks and greens in zigzag and parallel lines were a sight for sore eyes as PZYKonauts were strewn around the room, dazed out by the audio/visual candy put together by these two artists. Who knows how long we were in there for – it could have been hours.
Anticipation rises as Fuzz set up in Furnace. Ty Segall, Charlie Moothart and Chad Ubovich fiddle on stage as we try to pick a place in the crowd close to the magic and as close to Segall as possible. Tonight, Fuzz are here to eke out the evil riffs we've been gleaning all Summer, even if some would regard what they do as "not really psych." It's heavy psych – how is it not?!
A green haze floods the stage as Segall screams "DRUGS!" into the microphone from behind his drum set. I can't be bothered standing as far away as I am so I dart up to the front and hang off the gates in awe of what's going on up there.
The prowess of Ty's drumming bleeds through during 'Fuzz's Fourth Dream' and 'This Time I Got A Reason.' As the drug mellow heat of Moothart's riffs on 'What's In My Head' stick to me like glue, Fuzz continue to perform with such precision that they run out of time and are told no more songs. It was so good it was like someone just ripped it from our fingers. Highlights include Ty yelling "We've got a plane to catch in four hours man. I took too much man. I don't know what to do man" repeatedly as though he were imitating more than few members of the crowd, but they loved it. "Fuzz were quite amazing and totally revitalised me after a very heavy first day with their dark riffs and Segall smashing on drums," mentions Alex Wynne. "They even managed to turn sound problem into a trippy little interlude so I was nothing but impressed by this three piece."
Despite that there were still bands to follow, it felt like Fuzz was the end of the night. I make an appearance at Clinic, but it lacks the energy needed to finish off a weekend of such substance. The sound feels boxy and perhaps their version of neo-psychedelia is nothing compared to the Black Sabbath/Blue Cheer thrash of what we just witnessed during Fuzz. "Clinic wasn't for me. It was an anti-climax to the day which could be because I was just burnt out, but Fuzz should have closed it on a high," agrees Louis Dutton.
The weekend comes to a close and we sit quietly against on the pavement, reflecting the last few days. This being her first year at Psych Fest, Liverpool local Lauren Cannon felt it would have been better if there was more going on outside. "We spent so much time out there anyway, a stage would have been perfect with maybe some stalls or even a bar. My first time at Psych Fest was amazing, full of such different and diverse people and such difference in ages, I really loved the music and the company." Most importantly, who would fellow PZYKonauts like to see next year? To name a few… Thee Oh Sees, The Black Angels, Cosmonauts, Temples, Black Rebel Motorcycle Club, King Gizzard and the Lizard Wizard, Brian Jonestown Massacre, and Bass Drum of Death.
From our side of the spectrum, Psych Fest went off without a hitch. Overly organized with such a great handpicked bill, festival goers left craving a third day. Liverpool Psych Fest 2013 became a place to network, to discover new bands, rediscover old favourites, and lose your mind in The Trippy Room for a bit. Everyone I spoke to who went last year agreed that 2013 went off with flying colours and we are sure that nobody enjoyed themselves more than 13 week old Bowie, the Psych Fest baby.