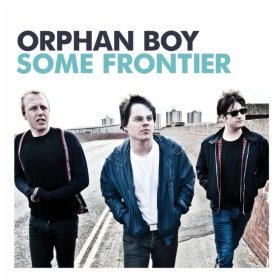 Britain's leading exponents of "council-pop" – Britain's only exponents of council-pop – are back with a new single, 'Some Frontier'.  The track comes from Orphan Boy's second album Passion, Pain and Loyalty, which was released in August.
It's got radio-friendly-hit written all over it, in that it's catchy but there's a slight air of blandness to it.  It captures the more commercial elements of 80s post-punk, and sparks early memories of bored, wet, Saturday morning radio.
But that's just a first impression. It is strangely infectious, and after the first listen it starts to sound better.  It's not the best song off the Cleethorpes trio's album, but then singles often aren't.
There's something of The Clash about 'Some Frontier', with its sparse 80s sound and its war theme.  However, it's not a jingoistic anti-war song; it focuses on the families whose loved ones have been sucked into wars in distant lands.
The call and reply verses resemble those of army marching songs, while the sparsity of the sound, seems to emphasise the detachment and physical distance from those wars.
So, yeah, it's not a bad tune, but give the album a listen.
Release Date 04/10/2010 (Concrete Recordings)