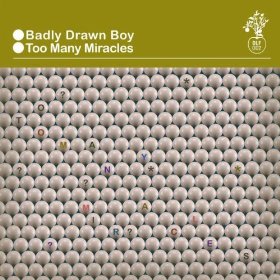 You'd struggle to find a more down to earth, northern, quirky songwriter than Badly Drawn Boy. With his trademark woolly hat and delightfully Mancunian vocals, Damon Gough is the epitome of the North.  After three years of producing soundtracks, the hat clad, lyrical genius is finally back and releasing "too many miracles," the first single from his forthcoming CD trilogy "What I'm Thinking Pt 1: Photographing Snowflakes". Though the track's blueprint is clearly the same as Gough's previous work, a mix of memorable acoustic riffs and newly transformed gentler vocals provide a charming, beautiful stunner.
The single is so wonderfully over the top that at times the hugely ambitious instrumentals threaten to overshadow BDB's vocals, and every so often they appear almost shy amongst the sea of string ensemble.
The suitably surreal, "Where the Wild Things Are"-esque video sees Gough take the lead role as a tree, destined for a particularly unfortunate fate. It's typically unconventional and a tad addictive, proving that the boy is definitely back in business.
Release Date 04/10/2010 (One Last Fruit)