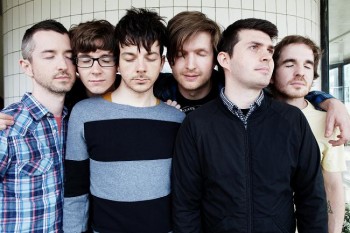 After five years of consistently smashing audiences around the collective face, Glasgow's six-man musical fireball Dananananaykroyd have announced their intention to split immediately after the conclusion of their forthcoming UK tour.
Drawing plaudits wide and varied, the outfit oft-described as "the best live band in the world," have notched two critically-acclaimed albums including their most recent effort 'There Is A Way' made on Venice Beach, LA with legendary producer Ross Robinson.
"We all still love each other very much," said the group, "for a band called Dananananaykroyd we've done more than we ever expected or possibly even intended and we've enjoyed nearly every step of the way. We're very keen at the same time to make sure we're never compromising or giving anything less than 100% and at this juncture of our collective lives, it makes sense to go out with a bang – which is exactly what this tour will be."
Following shows in Leeds and Bristol, Dananananaykroyd's 12-date farewell tour begins in hometown Glasgow and ends in a giant sphere of blood, guts, human flesh, fire and rock in Newcastle on 12th November and calls over the UK beforehand.
The band will release their final single 'Think & Feel' digitally on 7th November 2011.
Hear 'Think & Feel' here:

 
See Dananananaykroyd on tour one last time:
OCTOBER
12 – Bristol Thekla
14 – Leeds Brainwash Festival
29 – Glasgow ABC
31 – Manchester Deaf Institute
NOVEMBER
1 – Leicester Firebug
3 – Brighton The Haunt
4 – London KCLSU
5 – Derby Victoria Inn
6 – Stoke Sugarmill
7 – Portsmouth Wedgewood Rooms
8 – Exeter Cavern
10 – Oxford Bullingdon
11 – York Fibbers
12 – Newcastle Cluny
Tickets for all dates are available now at www.dananananaykroyd.co.uk