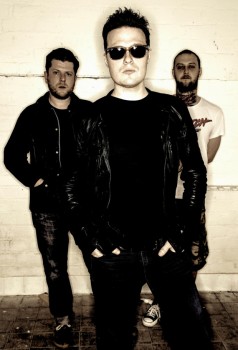 The Fratellis are back with a much awaited new album 'We Need Medicine'. The guys have a string of tour dates planned around North America, UK and some of Europe. I spoke to Lead Jon Fratelli about how the band feel about uniting back on stage and playing to a crowd again after a five year break.
*****
Are you excited for the tour around… America, UK, Europe?
Absolutely, that's the part we're really good at, all the other stuff that comes with trying to release records etc we have no control over. So when we play live we can do what we do best.
More importantly are you excited to play in Manchester?
Of course, we always are, we find the people always tend to get slightly louder which is always a good thing.
You've got quite few dates lined up, where are you most excited to go to?
Well we're getting to travel and play music, so we're pretty much excited to play anywhere.
It's great that you'll go somewhere and have a magic night, something special between you and the audience. I like that you never know where and when that's going to happen, but when it does it really is magic.
What's one of the most memorable gigs you have played?
Ah see now you're asking… I must have had them to know that they've existed!
 I guess over the summer there was one particular festival in Spain where we got blown away by everything. We almost got to experience what it might be like to be the Rolling Stones. Like I said before, something happened, some magic with the audience.
You guys went your separate ways, taking part in different projects, how was it reuniting back on stage after 3 years?
Well we definitely have a sort of new sound and appreciation playing together. That probably stopped before, from just playing and travelling so much – I guess it just dulled us a little bit. It really needed to be rediscovered and I'm really happy that we did manage to! We're just enjoying pushing our luck.
If it does, I'm sorry for bringing it up, but does it annoy you when people still mention (like I am now) 'Chelsea Dagger'?
I don't really know what I'm meant to say about it, I sort of don't really have anything to say. It was just one song, I know that it's brought this other life, but I don't know why. To me, it just exists and it just happens to be a song that I wrote.
Do you feel like you have to play it?
You have to play what people want. It's not cheap going to gigs these days and people should get what they want out of it. A lot of people go to gigs to hear the songs they know get played.
And we as a band should get what we want out of it and play what we want. It just means the shows might get a bit longer….
Moving on from that, what can we expect from your new album?
We're not the same band as we were 7 years ago, time dictates that we've changed, but there's definitely still a lot of similarities. There's still a thread that connects the first record we did to this one. But I think we are essentially still what we started out as, a rock n roll band.
The Fratellis Tour Dates
November
17th Bournemouth – 02 Academy
18th Lincoln – Engine Shed
19th Leeds – 02 Academy
20th Norwich – UEA
22nd Preston – 53 Degrees
23rd Margate – Winter Gardens
24th London – 02 Shepherds Bush Empire
26th Wolverhampton – Wulfrun Hall
27th Manchester – Academy
29th Glasgow – 02 Academy