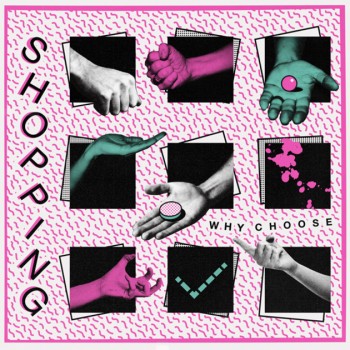 October sees the return of Shopping with their first full length since their 2013 début Consumer Complaints (difficult to find on a search engine on two counts, I know). The band have been busy of late, having supported Montreal post-punk outfit Ought on their UK tour last month, the London trio continue with a plethora of shows. They're doing an album launch for Why Choose at Bleach in Brighton on October 6th before heading to the states on the 10th for a tour starting in Brooklyn.
If there is a change in style between their début, and this, it's in the urgency of it. Both 'Wind Up' and 'Why Wait' are angular like the first record, but much faster and more articulated. There's something quite Suburban Lawns about it, especially the bass line in the former. Bassist Billy Easter is also in a band called Wetdog (not so un-google-able), and just as a Trash Kit influence can be heard on 'Why Choose' (Rachel Aggs trademark guitar is all over this), it's no surprise there's also Wetdog noodling bass featured heavily in the intro for most of the tracks.
Lyrically the record captures discontent in an obvious way, "Why pay for something you never really wanted / for something they're giving away / for what you never even needed / for something, for nothing"…that's the most immediate of insights. When the words stop questioning, they often change to a series of imperatives, quotes of authority disclosing the truth behind them. On so many occasions it's telling me what do, but simultaneously it's underlining how steeped in tradition these commands are (see 'Say It Once').
The first single 'Straight Lines' (on limited 7" – green vinyl released last week) sees Andrew Milk (drums) also provide vocals, his voice heard elsewhere on the album as an echo from the refrain, a kind of call and response / loud and quiet arrangement. On, 'I Have Decided', Andrew clashes with Rachel's lead providing a muted spoken track beneath it. 'Straight Lines' is again more of a spoken track rather than singing, but Andrew doing lead. Having considered these tendencies in vocals, it kind of makes sense that they supported Ought.
The addition of synth is noticeable, yet subtle, introducing it to the end of a section (of music and/or vocals) for clarity. 'Take It Outside' has this and it offers a moment away from the brilliant urgency of the record, a recess from the biting agitation, and some liberation from the frustrations explored.
The album was recorded with Jamie Grier at Glasgow's Green Door Studios. Grier had worked with the band before Consumer Complaints, so it's a very similar aesthetic and sound. This one has the addition of those synth and vocal elements to build on what is clearly an established process. Many call the sound of Shopping 'ramshackle' – I don't see that at all. Each structure and element is very precise, so quite the opposite it seems.
Release Date 02/10/2015 (FatCat Records)
Shopping Facebook | Twitter | Soundcloud