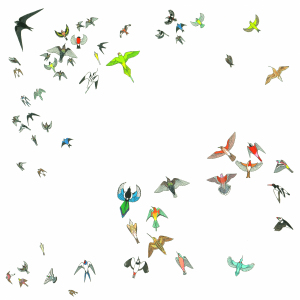 Having a stressful day? Let Modern Nature help you with that. 'No Fixed Point In Space' is an album which pours out a soothing concoction of ethereal, otherworldly tunes from the musical innovator Jack Cooper. Whereas Cooper's previous bands, Ultimate Painting and Mazes were taking their cues from more indie rock treasure troves, his song writing for Modern Nature ploughs a different path entirely. Cooper has stated that he wanted the music in this record to reflect "beginnings and endings, arrivals and departures, process and chance", and with all tunes seemingly drawn from the inspiration found in the natural world, he manages to create his own musical language.
Opener 'Tonic' has an orchestral feel to it with strings and woodwind swelling and retreating over gentle guitars and percussion. There's elements of modern jazz in there but mostly it sounds like the genre busting song writing Modern Nature do so well.  Possibly my favourite tune on here, 'Murmuration' as the title suggests seems to be the perfect accompaniment to gazing skywards and observing migrating birds in full flow as Cooper sings "on a flurry, elevation", as if describing the flutter of wings in flight. It's a beautiful soulful piece, without a strict tempo underpinning its existence, just a free flowing melodic experience. In fact the whole of 'No Fixed Point In Space' is an album to put you in a place of calm serenity. 
Elsewhere on the album, 'Orange' finds an accordion squeezing a gentle droning melody under Cooper's melodic vocal lines, whereas 'Cascade' and 'Sun' both have violins and guitars taking centre stage within the sonic kaleidoscope of sounds. 'Tapestry' has scattered melodies rippling from its core whereas album closer 'Enso' finds Copper joined by legendary singer Julie Tippets (also known as Julie Driscoll) on vocal harmonies, in her first recording for many years.
It feels as if Modern Nature has been moving closer to this abstract, semi-improvisational sound with each of the  albums released so far, from 2019's 'How To Live' with its hypnotic beats, to last album 'Island Of Noise' which took them in a direction firmly leading up to here. Each tune on 'No Fixed Point In Space' feels more like a collage of gentle melodies weaving around each other. Deliberately avoiding time signatures or conventional song structures, Cooper has created an abstract album of weirdly mesmerising melodic beauty.
Modern Nature: No Fixed Point In Space – Out 29th September 2023 (Bella Union)