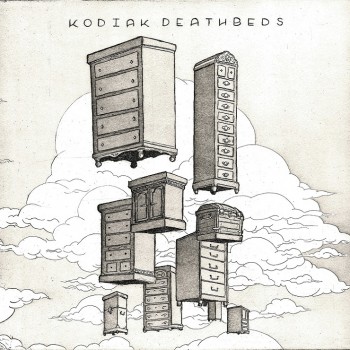 I just wanna point out straight away, this music isn't my cup of tea at all. However, I do respect its beauty and inoffensive nature, which you can't really say a bad word about…well, except "bored shitless" maybe.
Track 1, 'Never Change', is just a little dull to be honest. Dreary. Trying to find the right balance between the sweet and the sour, a bitter sweetness that isn't really achieved. I enjoy the double-tracked vocals on the second half of the song, but that's about it.
The Seattle pair, Amber Webber and Dereck Fudesco, seem to know what they're doing, so at least it's not as drab as other "musicians" efforts in recent years, which are basically fucking shit. A nice, calm guitar sound on tracks like 'Wild Hearts' and 'Rattle And Roar' are enjoyable and can induce a feeling of tranquillity or safety even. That, alongside the good vocal performances of Webber, do at least show some effort for solid song writing and arrangement, especially with the heavily featured harmonies and the up then down personality of Webber's vocal delivery.
The only other tracks here which I could stomach, before I had to put some BATTLES on to lift my mood were, 'Against The Wind', slightly more upbeat and less a ballad of a boring life. Then the more lo-fi 'Joseph', which I enjoyed mainly because it reminded me of all those great late-90s American lo-fi acts when they did less frightening and abrasive punk songs.
I always feel rude when I mention other acts in my reviews, but I'm not gonna bullshit here, this album had me in tears. And not because of its heart-breaking lyrical content, which might as well not have been there, but for being as plain and miserable as a depressed metal head. The ones who shout things like, "Death to all but metal!!!" We all know one. You could say I'm a bit of a snob when it comes to the words as it were, something years of enjoying Morrissey's pockets of wisdom and dismay have instilled in me.
This album, all in all, is a bit stiff, stuck within its own admirable yet limited resource and attempt. That sound's harsh, but to be fair, from what the music was made from, a guitar and a voice, its pretty decent. For me, though, the sameness of the songs on this album, and the constant urge to think about past broken hearts and my own shit life, were a huge turn off. Who wants to think about their life? I don't think any cunt does.
One thing it is good with, which my MATE told me about, is weed. It was definitely a MATE I swear…
He said: "The flatness really helps me in these states maaan".
Honestly.
Release Date 25/09/2015 (Affairs Of The Heart)
Kodiak Deathbeds Facebook | Soundcloud