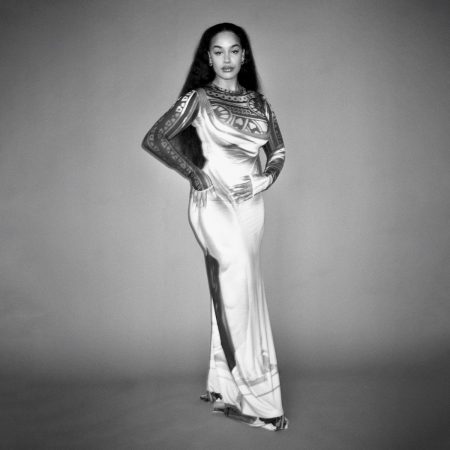 Silent Radio's guide to another busy week of releases.
Jorja Smith         Falling or Flying
On her second album, Jorja Smith delivers on her potential. 'Falling or Flying' acts in equal parts as a showcase for her soulful, sultry voice, her ability to condense any number of disparate styles and genres into music which broaches any gap between Jazz, Soul, R&B and Funky House while mixing accessibility with sonic adventurousness.
Animal Collective            Isn't It Now?     
A chance for the band to nurture new notions be it allowing Panda Bear to focus on his drumming more or encouraging Deakin to dig more deeply into his piano playing, giving Avey Tare and Geologist's burgeoning interest in Renaissance music—plainchant, the hurdy-gurdy, gilded polyphony—space to bloom.
Slow Pulp            Yard      
An album that sees the Chicago-based group range through genres from lo-fi acoustic to fuzzed-up grunge-punk and charts a journey of self-acceptance, finding the balance between being comfortable with yourself, and learning to trust, love, and lean on others. Aptly, it's at its very best on the slowest tracks.
Blonde Redhead              Sit Down For Dinner      
Their tenth album and first in eight years is immaculately structured, imbued with sensitivity, clarity, and resolve. Throughout the album, the understated yet visceral melodies create a foil to lyrics about the inescapable struggles of adulthood.
La Force               XO Skeleton      
A mixture of haunted pop and hot-blooded R&B that glistens at the meeting-point between life, death, and love.
Rhona Stevens & Joseph Peach                 Fragments in Time         
Cinematic alt-folk drawing on the timeless poetics of Scottish writer, Violet Jacob, the duo discovered a shared love for her profound themes of nature, place, longing, loss, grit, determination and the relentless passage of time.
Modern Nature                 No Fixed Point In Space
Their third album retains characteristics familiar from its predecessor (woodwind, percussion, strings and Jack Cooper's lambent voice) but the new record marks a shift to utilising musical notation as a point of departure, from which the group explore the space around suggested notes and rhythms to create a semi-improvised, semi-composed ensemble performance.
Asynchrone        Plastic Bamboo
The debut release from a collective born in 2021 and consisting of cello, clarinet, flute, piano and drums. It assembles musicians from the Parisian free jazz and electro scenes, to honour the music of late Japanese legend, Ryuichi Sakamoto.
Autogramm        Music That Humans Can Play    
This new wave inspired power-pop band from Vancouver is a departure from their other various projects (Black Mountain, Destroyer, Night Court, Spitfires, Bread & Butter, Spun Out, Black Halos, Catheters, Lightning Dust)
Girl Scout            Granny Music EP             
Stockholm indie-pop four-piece move away from the nostalgic yearning and anxiousness that defined their debut, this time Girl Scout have found inspiration in the nuances of childhood memories, family dynamics and romantic relationships, with the band opening-up on more personal stories across its five tracks.
Steven Wilson  The Harmony Codex      
A vivid tapestry conceived and pieced together by an artist working alone in a studio tucked inside the garage of a North London townhouse, with assistance called in from musicians from all around the globe (including long time studio partners such as Ninet Tayeb, Craig Blundell and Adam Holzman alongside a host of first-time collaborators including Jack Dangers of Meat Beat Manifesto and Interpol's Sam Fogarino).
Sensorama         Where The Rabbit Sleeps            
A collection of tracks from a production team whose music draws on a wide range of influences which reach far beyond the generic borders of techno. Inspired by the the Krautrock of the 1970s, they were less interested in making Frankfurt Techno than they were in the electronic music of NEU!, Cluster and Kraftwerk.
Ladaniva              Ladaniva             
With a name borrowed from an old Soviet 4×4: colourful and all-terrain, it fits the band's music perfectly. Half-traditional, half-pop, mostly Armenian with some French influences. Hybrid and crossbred, it preaches Balkan melancholy and Creole groove, with echoes of hip hop and reggae atmospheres.
Tengger                 Tengger
A traveling musical family, made up of Pan-Asian couple Itta and Marqido, who create their brand of psychedelic New-Age drone magic using Indian harmonium, voice (played by itta) and synths, electronics (played by Marqido).
Random Hand   Random Hand  
Fifth album from ska punk band inspired by the world's instability.
Maggot Heart    Hunger
Berlin based crossover band compared to Patti Smith, Sonic Youth, The Stooges, Killing Joke and Voivod.
Emile    Spirit    
Frontman of Copenhagen acid rock band The Sonic Dawn releases an album centring upon his voice and acoustic guitar playing backed by a small ensemble of selected musicians and blackbirds singing the sundown.
Fat Freddy's Drop            Blackbird
Their 2013 mix of disco, rootsy dub, blues, soul and electronic funk has been remixed by Kings, Nightmares on Wax, Philippa, Jazzanova, Feiertag, Marcus Worgull, Freestylers vs Dub Pistols, Kid Fonque, The KCBS, Christoph El Truento & Lucky Lance, Yarni feat. Liv East and Syrup D..
Kelvin Krash       Harsh   
Debut album from leading rap producer featuring guest appearances from collaborators A$AP Rocky and COUCOU CHLOE.
Fearing                 Destroyer           
Californian post-punk outfit with album that sees their sound shifting towards the sombre, austere, vigorous, and vibrant.
Godcaster           Godcaster          
New York band known for their maximalist live shows.
Skam                     No Name            
Previously unreleased recordings from '83 have an undeniably Clash-like countenance that sets them definitively apart from the "First Four" of Dischord — in some ways, prefiguring the pop-punk sound of Green Day at the dawn of the '90s instead.
Peach                    Peach   
Bristol desert-rock, post-punk four-piece launch an album of huge and heavy drums, distinctive riffs, dirge tones and powerful, emotive vocals, to explore boundaries, comfort zones, change, and moments of clarity in relationships.
Heavy Lungs       All Gas No Breaks           
Debut album from Bristol noise punks examining anxiety, guilt and mental health with humour.
Able Machines                  Digital Precision              
A collection of songs that blends Swedish pop, Elliot Smith and Fiona Apple, with punk-metal.
Connie Lovatt                    Coconut Mirror
A family record and a love letter/life guide to her daughter—full of carefully constructed songs about drownings, cockfights, the ocean, happiness, drug dealers, poverty, heartache and love, backed by musicians from Yo La Tengo, Smog and Spoon.
Alex McEwan                     In a World We Don't Know         
Scottish singer-songwriter with an emotionally charged style.
Andrew Cushin                 Waiting for the Rain      
Coinciding with his tour supporting Louis Tomlinson, this album showcases his baritone that sounds way beyond his years, with songs full of his experiences growing up, his lust for life, his grief at the loss of loved ones, his hopes and fears, his love and his stoicism.
Finding Bella      Bad Influences EP           
Band offering the middle-finger to the establishment with songs referencing political corruption, corporate greed, and social media influence.
Nervosa               Jailbreak             
Full-speed thrash metal band.
Diamond Dogs  About The Hardest Nut to Crack               
A display of pure rock'n'roll influenced by early 70s British rhythm & blues.
Dictator Ship      Electrick Jihad  
Second album from Swedish band who blend energetic and raw rock'n'roll with multi-layered vocal harmonies and melodies inspired by 60's soul and doo-wop.
Primordial          How It Ends       
Tenth album from Irish band who blend Celtic and black metal, with an extra added urgency, and stare down the apocalypse.
Harm's Way        Common Suffering         
Their new LP integrates elements of paranoia-driven ambient ala Lustmord, glacially paced doom (early Melvins, Khanate) and even Meshuggah-like polyrhythms in its fully-automatic onslaught
KK's Priest          The Sinner Rides Again 
Pure hellfire from former Judas Priest members K.K. Downing and Tim "Ripper" Owens.
Wishbone Ash  Live Dates Live 
A 2023 live recording of the songs in the same order that made up their Live Dates 1973 release.
Taylor Pearlstein              Perfect Blue EP
With a sound reminiscent of Weyes Blood and Phoebe Bridgers, Perfect Blue tells a disorienting story of self-delusion, reality weaving, and over-romanticizing to the edge of our own destruction and misery. This five track EP wastes no time diving deep into our dark desire to be wanted.
The Brand New Heavies                               Never Stop… The Best of the Brand New Heavies            
21 song compilation from pioneers of the London acid jazz scene of the early 1990s.
Toyah    The Changeling
2CD/DVD reissue of Toyah's silver-certified album from 1982.
Various Artists                  Into Tomorrow – The Spirit of Mod 1983-2000  
4CD boxset whose definition of mod ranges from those associated with the early 80s mod revival like Paul Weller, Squire and the Purple Hearts, through a looser definition including Fine Young Cannibals, on through The Charlatans and Supergrass.
The Runaways   Neon Angels on the Road to Ruin 1976-1978     
5CD boxset from all-woman rock band including Joan Jett.
Hawkwind          Space Ritual      
A deluxe 11 disc 50th anniversary issue of their live album remastered.