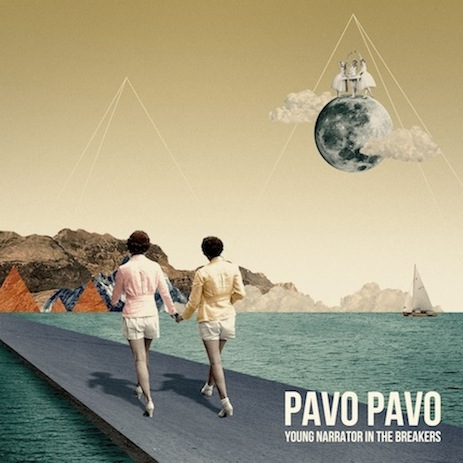 Pavo Pavo is an experimental pop band from Brooklyn, NY. The band started writing together while studying music at Yale, and since then its members have worked closely with indie and classical heavywights such as Here We Go Magic, John Zorn, Dave Longstreth, Porches, Olga Bell, Lucius, Roomful of Teeth, and San Fermin. Hailed by Stereogum as "weightless pop music that sounds like it was beamed down from a glimmering utopian future"
Pavo Pavo is Eliza Bagg on violin, synthesizers, and voice, Oliver Hill on guitars, synthesizers, and voice, Nolan Green on guitars and voice, Austin Vaughn on drums, and Ian Romer on bass. The group borrows its name from the southern constellation, Pavo, Latin for peacock – an elegant and spectacular link of cosmic dust.
With their debut album Young Narrator in the Breakers due for release 11th November on Bella Union, and the band recently the subject of a New Band Of The Week feature in the Guardian, PAVO PAVO have unveiled a video to Ran Ran Run, the LP's enticing opening track. Created by Swimmers, the video offers a striking and artful display of whimsy through a series of staged scenarios.
Vocalist Eliza Bagg elaborates: "Ran Ran Run is a song about the joys and sorrows of growing up, the awareness of impermanence and change. In the video we pass through some kind of portal into a completely manufactured reality – a space that is intense but also playful, full of stark contrasts and extremes (of colour, texture, mood). We're somewhere between children and adults, literally dressing up, play-acting, trying on the guises of who me might be. Actually a theme throughout this record is that the whole prospect of becoming an adult involves a little bit of fantasy – reaching for a possible world or possible self, and aiming for magic, for something over the top, fantastical."
Co-produced by Danny Molad (Lucius) and Sam Cohen (Yellowbirds, Apollo Sunshine), Pavo Pavo's music moves with symphonic elegance. Guitar stabs, washed out harmonies, and rumbling synthesizers come and go like the tides of the ocean. The music on Young Narrator in the Breakers describes the magic and panic of adult life; a breaker is that wave whose potential energy is being transformed into turbulent kinetic energy.
You can catch Pavo Pavo supporting BC Camplight at Manchester's Ruby Lounge on the 17th of November.
PAVO PAVO Official | Facebook | Twitter