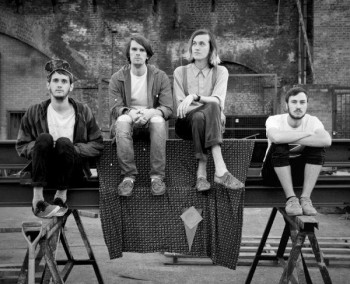 After a year that has seen the Kingston-based band expand to a quartet, take on an extensive European tour and cram in a summer of festivals, this autumn will see the release of the band's second full-length, 'R O M A N C E', a prospect that sees Tubelord take on both a renewed sound and a complex new approach to lyrical content and the concept of meaning.  
Instead of typically drawing on personal experiences and emotions, lead vocalist Joseph Prendergast wished to relate tales outside of himself by using words found in the poetry of women: completely extracting himself away from his own life and thoughts, therefore creating an atmosphere of absence in which words meanings are rendered superfluous. The end product: a meticulously woven tapestry of borrowed and recycled words, an experimental journey into the transposition of context and meaning. 
As Prendergast explains: "The medium of song, at first, was a vehicle for my personal immediate emotion. A way to represent the tangible relationships I had felt with others, capturing moments worth remembering and not wanting these fragments to be lost and forgotten. Yet at the same time, what worth is my depiction of events over another person's?" 
"Questioning the purpose of my own writing, 'I' decided to disappear instead of clarifying my very being in the form of song. However, 'I' am content with appearing as a reader as opposed to being a writer. 'I' cannot claim to be a writer, so 'I' therefore chose to attempt to stay true to my belief of existing as a reader and drew from the limited pool of words found in the tidy boxes of poetry. Poetry written by the opposite sex. Not a sausage in sight. Listen to the songs and 'I' am not there, the songs are not me, they belong to no one, in the same way words cannot belong to an individual, they are multitudinous device used to portray context." 
"There is no spell check in physical, tangible reality, just mistakes and accidental revelations. This is my message ≈ the message is meaningless." 
The band have prepared a secret password protected website (its details hidden amongst the artwork) which allows the most attentive of fans to log in and access the album lyrics and a comprehensive appendix which references hundreds of writers and publications including those of Gertrude Stein, Sylvia Plath and Anne Sexton. 
A lack of self-scribed lyrics aside, 'R O M A N C E' is still very much a Tubelord record, while lead single 'My First Castle' may be their finest example of a pop song yet. Prendergast's vocals remain as distinctive as ever, and he sings with as much conviction as to convince you that each and every word is deeply personal to both him and the band. Elsewhere, David Catmur's drumming interweaves jarringly with Tom Coulson-Smith's bass lines, all emphasized by the more recent addition of producer James Elliot-Field's synthesizers and keyboards. 
httpv://www.youtube.com/watch?v=dxBcgmHYw7Y
'R O M A N C E' marks the first album release from Pink Mist – a collaborative music group involving Big Scary Monsters, Holy Roar Records and Blood & Biscuits. 
'My First Castle' will be the album's lead single, and is set for release on 3rd October on Cassette and Digital download and 'R O M A N C E' is set for release on October 10 via Pink Mist and available on CD, 12" vinyl LP and digital download. 
'R O M A N C E' Track listing:
1. Over In Brooklyn
2. Never Washboard
3. 4T3
4. Charms
5. Here Is Nothing
6. Go Old
7. My First Castle
8. Ignatz
9. Waterworld
10. In Greenland
11. Tidy Diggs 
Upcoming live shows: 
October
13 // KINGSTON, the works
14 // SHEFFIELD, the bowery
15 // NOTTINGHAM, chameleon arts cafe
16 // LEEDS, Brudenell (brainwash) day show
16 // MIDDLESBROUGH, uncle albert's
17 // LONDON, upstairs at the garage
18 // PLYMOUTH, the white rabbit
19 // FALMOUTH, watersports centre
20 // CARDIFF, clwb lfor bach (BSM stage @ SWN)
21 // BRIGHTON, the haunt
Tubelord are:
Lead Singer and Guitarist – Joseph Prendergast
Vocalist and Drummer – David Catmur
Bassist – Tom Coulson-Smith
Keyboardist, Sampler and Producer – James Elliot Field