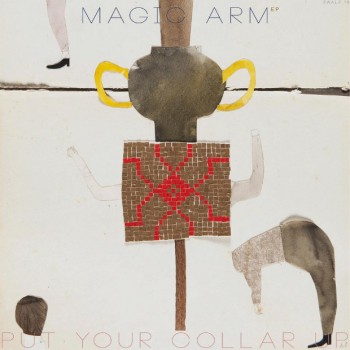 DIY pop raconteur Marc Rigelsford – the mastermind behind Manchester's Magic Arm – has got some nerve. It takes a brave soul to pen a debut album as daring and different as 2009's acclaimed Make Lists, Do Something – a record that tumbles through the kaleidoscopic pop sprawl of early McCartney and Beach Boys adding a sinister electronic edge.
The prodigious Mancunian's much anticipated new EP, Put Your Collar Up, is every bit as adventurous. Recorded alone with the multi-talented Rigelsford performing all instruments, it looks certain to cement his growing reputation as one of the most exciting prospects in British music today.
Magic Arm began in 2006 as a favour to a friend whose film needed a soundtrack is telling of the cinematic overtones that make Put Your Collar Up such an epic listening experience. From those beginnings, the project soon snowballed into a phenomenon of its own, winning praise from the likes of Lauren Laverne, Zane Lowe and Marc Riley. More important to him though were the ringing endorsements of his peers: Ed Droste of Grizzly Bear described Rigelsford as "incredible", while Samuel Beam of Iron and Wine dubbed him "the master of the loop pedal."
"It looks at starting an album from scratch and being daunted by the endless possibilities, directions and ideas," says the songwriter of the surging title trackfrom the Put Your Collar Up EP – an infectious folk anthem thrown off centre by detuned pianos and woozy synth noises. Cinema Times is more introspective still, Rigelsford musing on a bout of melancholic nostalgia – "thinking the past is better than the present wondering how to redress the balance" as he puts it – at the epicentre of a pulsating brass-accompanied dance number. By the time the haunting Through the Mire pulls the EP to a close, you'll be frothing at the mouth at the prospect of next year's incoming full length, Images Rolling.
From the simple stairwell used to record parts of this EP ("to give it that lost and distant sound," he explains) to the branch of Cash Converters where he happened upon a dusty Yamaha CS-10 keyboard sparking the love affair with lo-fi electronics at the heart of Magic Arm, Rigelsford finds inspiration even in the unlikeliest of places. Now it's your turn to be inspired by him.
EP released via Switchflicker / Peacefrog on 8th October 2012