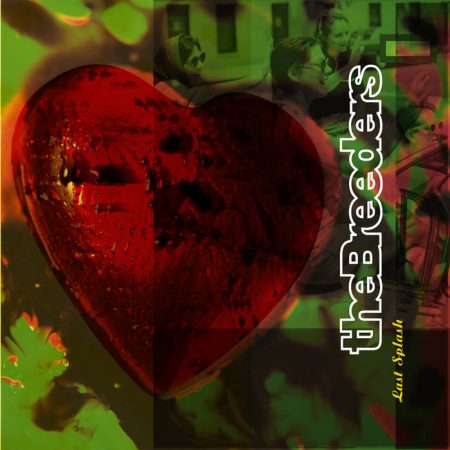 A band who played their first ever gig in a snooker hall behind Warrington Rugby Club before supporting Nirvana on tour two days later, a band who have been sampled by The Prodigy for their biggest hit 'Firestarter', a band who used a sewing machine on a tune and dropped cymbals out of a window as they sounded too new –  it can only be The Breeders. It can't be thirty years since 'Last Splash' came out, can it? An album which still sounds as vibrant and intriguing today as it did in 1993, has now been remastered for its 30th birthday, with the addition of two extra tracks, co-written by J Mascis from Dinosaur Jr and Black Francis from the Pixies. 
The musical landscape into which 'Last Splash' emerged back in 1992, was a post grunge, pre-Britpop melting pot of alternative rock, jangly indie, and off-kilter musical weirdness. The Breeders slotted in perfectly. Theirs was a world of huge melodies, yet imbued with an adventurous musical spirit, never afraid to experiment and twist their guitar laden tunes into places you never expected them to go. No wonder 'Last Splash' landed like a musical kick up the bum, catapulting the band once seen as Kim Deal's 'side project' into the limelight. Having left the Pixies shortly before its release, Deal, along with twin sister Kelley, bassist Josephine Wiggs and drummer Jim Macpherson, were one of the biggest bands around in 1993, from covers of the NME to videos on constant MTV rotation, The Breeders were everywhere.
This band with their captivating mix of indie, pop, psychedelia, country, were (and still are) one of my favourite bands of all time. Listening to the remastered version of 'Last Splash' it's easy to see why this album has stood the test of time. From the opening bars of 'New Year' with Kim proclaiming "I am the sun, I am the New Year" over an ever growing wall of huge guitar riffs, the scene has been set perfectly perfectly before the opening refrains of "Ahoo-ooh, Ahoo-ooh" come blasting out of the speakers, followed by the most recognisable bass riff in indie rock as 'Cannonball' kicks in. Apparently a happy accident in the studio led to its wonky sounding origins, seemingly out of tune before reaching its correct place on the fretboard, yet it remains an indie disco favourite (I still always play it when DJing anywhere), as it never fails to get a dancefloor bouncing. 
Delve deeper into 'Last Splash' though and the song writing power of Kim Deal, shines through from the glorious harmonies of 'Invisible Man' to the surf rock inspired 'Flipside' and the full on frenzy of 'S.O.S.' (the one sampled by The Prodigy for 'Firestarter'). There's the leftfield guitar noise psych of tracks like 'Roi' and the slow laidback 'Mad Lucas', elsewhere the shimmering guitar pop of 'Do You Love Me Now' co-written with sister Kelley Deal, is pure melodic brilliance.
What makes The Breeders such an intriguing listen goes beyond the pure musical joy of the huge tunes such as 'Cannonball' 'Divine Hammer' and 'Saints' but the fact there's so much going on within one record, it shouldn't work, but the fact that it does, and manages to gel together with such powerful song writing finesse is utter genius.
Not only content with writing one of the best albums of the 90s, Deal's hands on approach to all aspects of the recording process extends to her overseeing the half-speed remastering process at Abbey Road with the mastering engineers, which isn't a surprise as Deal is renowned for her love of analogue production and has a keen ear for detail. 
The two surprises on this 30th anniversary edition come in the form of 'Go Man Go' jointly written with the Pixies' Black Francis, a tune which fits into this era of The Breeders seamlessly, and 'Divine Mascis' a reworking of 'Divine Hammer' with Dinosaur Jr's J Mascis adding guitars and vocals. These two tracks, recorded in 1993 for the 'Last Splash' sessions, were re-discovered in the Warner Bros archives along with the original unmastered and unsequenced recordings of the album, making this audiophile vinyl pressing possible.
It may be 30 years old, but the remarkable 'Last Splash' remains a uniquely brilliant album, one that never fails to reveal more of its sonic creativity with each listen. A thrilling ride for your eardrums from start to finish.