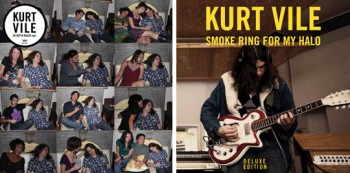 On November 7th, Philadelphia's Kurt Vile will be releasing a brand-new 6-song EP on the 12″ vinyl and digital formats, entitled So Outta Reach. The EP contains 5 original songs initially recorded during the sessions for Smoke Ring For My Halo but not used for the album, which were reworked with producer John Agnello this summer. In addition, the EP contains a cover of Bruce Springsteen's 'Downbound Train'.
On the same day Matador will release a deluxe 2-CD version of Smoke Ring For My Halo with a new colour cover. The deluxe CD will include So Outta Reach EP on a second disc, all at the same price as the regular CD.
Kurt Vile's new track 'The Creature' can be downloaded here (right click & save target as).